Impala Saracens have revealed their squad that will take part in the Kabeberi 7s slated for RFUEA Grounds on Saturday and Sunday.
Anthony Odhiambo, Paul Mutsami,  Anderson Oduor, Karl Siambe, Hannington Mmbaka, and Valentine Cosmas have been entrusted for the first tournament.
Frank Aduda, Mark Akide,  Churchill Obat, Johnson Waiganjo, Patrick Mutuku, Samuel Maina and Oscar Oyando are in the 13-man squad set for the tournament.
Editor's pick
Impala Saracens are in pool D alongside Nakuru RFC, Daystar Falcons Rugby and Suburbs.
View other squads heading to Kabeberi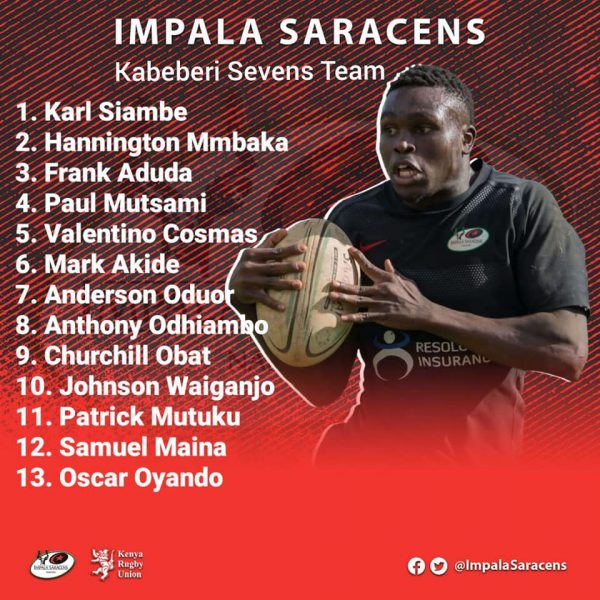 Kabeberi 7s Division 1 Day 1 Order Of Play
9:00am MMUST Rugby v Kabras RFC
9:20am KCB Rugby v Western Bulls
9:40am Nondies v Strathmore Leos
10:00am Mwamba v Mean Machine
10:20am Menengai Oilers v Kenya Harlequin
10:40am Homeboyz v Blak Blad
11:00am Impala Saracens v Northern Suburbs
11:20am Nakuru RFC v Daystar Falcons
11:50am MMUST Rugby v Western Bulls
12:10pm KCB Rugby v Kabras  RFC
12:30pm Nondies v Mean Machine
12:50pm Mwamba v Strathmore Leos
1:10pm Menengai Oilers v Blak Blad
1:30pm Homeboyz v Kenya Harlequin
1:50pm Impala Saracens v Daystar Falcons
2:10pm Nakuru RFC v Northern Suburbs
2:40pm Kabras RFC v Western Bulls
3:00pm KCB Rugby v MMUST Rugby Club
3:20pm Strathmore Leos v Mean Machine
3:40pm Mwamba v Nondies
4:00pm Kenya Harlequin v Blak Blad
4:20pm Homeboyz v Menengai Oilers
4:40pm Northern Suburbs v Daystar Falcons
5:00pm Nakuru RFC v Impala Saracens