Debutant Nygel Amaitsa stole the spotlight with a stunning hat-trick of tries as Kenya 7s launched their Africa Men's 7s/Olympic qualifiers campaign with a resounding victory 34-10.
Kenya 7s notched their first try when co-captains combined forces, with Tony Omondi executing a tap-off a penalty.
Kenya 7s first try
Omondi exploited the space and delivered a precise pass to the charging Vincent Onyala, who scored a try, putting Kenya in the lead at 7-0.
Nigeria mounted a counterattack on the left flank and managed an unconverted try, narrowing the score to 7-5.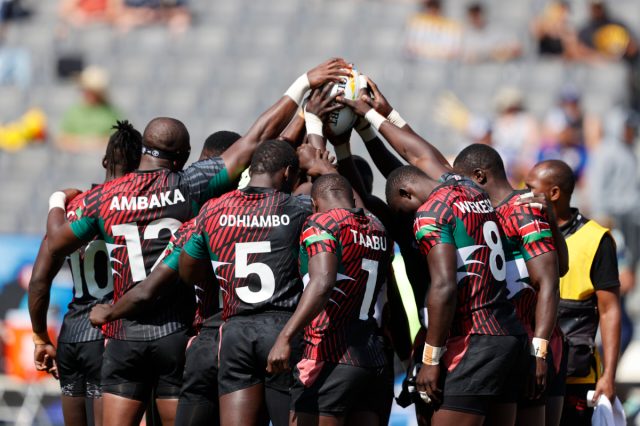 Kenya extended their lead with Amaitsa showcasing dazzling footwork to penetrate the defence and score a try. This try was successfully converted, pushing Kenya ahead 14-7.
Onyala added to Kenya's tally with his second try right after the restart. Kevin Wekesa claimed the ball and it was swiftly passed to the left, finding Onyala for his second try of the match.
Kenya 7s' Amaitsa
Amaitsa continued his spectacular performance, fooling the defence with a dummy move to secure his second try of the day. His third try came moments after Nigeria received a yellow card he had acres of space for an easy try.
Another debutant, Festus Shiasi, joined the scoring action by fending off his marker and racing for a try, bringing Kenya's lead to 34-5 before Nigeria pulled back.
Defending champions Uganda had a solid start, overpowering Algeria with a commanding score of 45-7.
Uganda capitalized on an early advantage as Pius Ogena scored a try, converted by Philip Wokorach, giving them a 7-0 lead.
Uganda secured their second try before Wokorach's try was disallowed due to a yellow card, leaving Uganda with six players.
Algeria made their first foray into Uganda's territory, resulting in a converted try. Nevertheless, Uganda extended their lead when Ogena set up Aaron Ofoywroth for a dazzling try.
In the second half, Uganda continued their dominance as Adrian Kasito scored, further stretching their lead. They added two more tries against the Algerian side, which received multiple yellow cards, sealing a resounding 45-7 victory.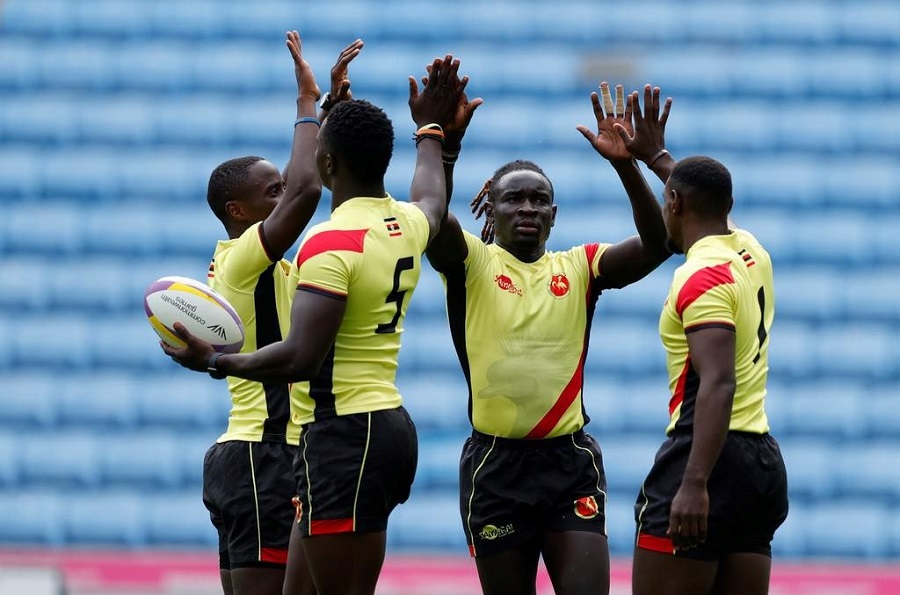 Hosts Zimbabwe found themselves locked in a 12-12 draw with Burkina Faso on the competition's opening day. Both teams earned two points each after the hard-fought draw.
Burkina Faso made an impressive start, capitalizing on support play for their first try. Their second try came from an intercept, just moments after they were reduced to six players due to a yellow card. They scored and successfully converted, taking a 12-0 lead into halftime.
Zimbabwe swiftly responded after the break, narrowing the score to 12-5. The Cheetahs added another try in the right corner, courtesy of Geodfrey Magaramombe, resulting in a 12-12 deadlock.
Despite a spirited effort, Burkina Faso held on to thwart the hosts' quest for a late winner.
Results
Zimbabwe 12-12 Burkina Faso
Uganda 45-7 Algeria
Zambia vs Nambia
Kenya 7s vs Nigeria
Madagascar vs Tunisia
South Africa vs Ivory Coast
Round two
Zimbabwe vs Algeria
Uganda vs Burkina Faso
Zambia vs Nigeria
Kenya 7s vs Namibia
Madagascar vs Ivory Coast
South Africa vs Tunisia