Kenya 7s displayed their dominance in style, securing a spot in the Africa Men's 7s/Olympic Qualifiers quarterfinals with an impressive 51-0 triumph over Namibia in Harare.
Shujaa entered the match following a previous victory against Nigeria and were determined to secure maximum points, ensuring their quarterfinal berth with a game to spare.
Kenya 7s regulars impress
Standout performances from players like Vincent Onyala, Kevin Wekesa, and John Okoth, each contributing two tries, propelled Kenya to a commanding lead.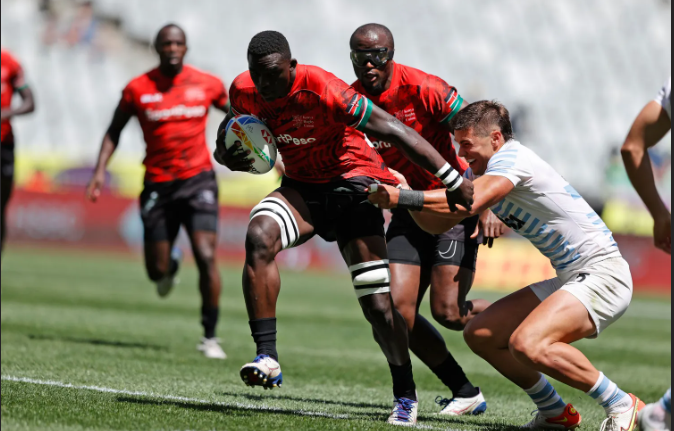 Kenya 7s wasted no time, making their presence felt within just two minutes of play. Debutant Patrick Odongo showcased incredible speed, beating his marker to secure a try on the right side. Tony Omondi's successful conversion put Kenya in an early 7-0 lead.
The lead expanded as Kevin Wekesa delivered a precise, long pass, finding Vincent Onyala unmarked on the left corner, where Onyala scored his try. This marked Onyala's third try of the day, having already scored two in the first match.
Kenya continued to press, with Wekesa demonstrating his power as he broke through his markers to score, further extending their lead to 17-0.
Kenya 7s score final try
Namibia came close to opening their scoring account but lost possession. Samuel Asati seized the opportunity, releasing a pass to Onyala, who sprinted from his own zone to secure his second try of the match and fourth of the day as the team headed to the break.
John Okoth added his name to the scoresheet with a break on the left side in the second half, and the try was successfully converted, pushing Kenya ahead at 31-0.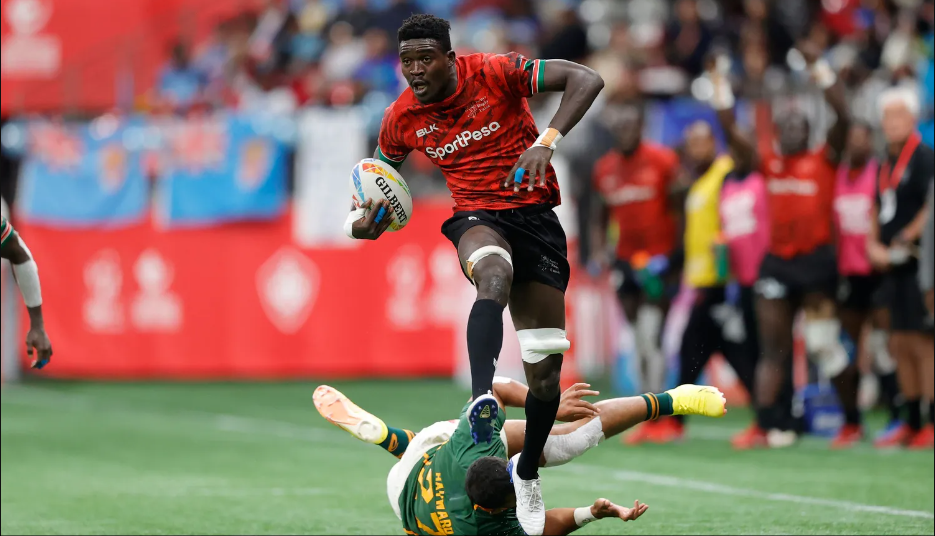 Wekesa continued his impressive performance, securing his second try of the match, while Okoth burst through the defense to score a center post try.
George Ooro capped off Kenya's dominant display with another try, which was converted, solidifying their commanding 51-0 lead.
In their next challenge, Kenya will face Zambia in the pool B decider, as they aim to maintain their winning momentum in the tournament.
Results
Zimbabwe 12-12 Burkina Faso
Uganda 45-7 Algeria
Zambia 31-12 Nambia
Madagascar 43-5 Tunisia
South Africa 39-0 Ivory Coast
Round two
Zimbabwe 47-5 Algeria
Uganda 36-19 Burkina Faso
Zambia 38-12 Nigeria
Kenya 7s 51-0 Namibia
Madagascar 40-5 Ivory Coast
South Africa vs Tunisia