Nondies are the Tisap 7s Champions after a 12-7 sudden-death win over Strathmore Leos in the final played at Eldoret Sports Club.
Strathmore Leos aimed to secure their first win this season as they made their second consecutive final appearance following their participation in the Christie's 7s.
Nondies in Tisap 7s final
Nondies, celebrating their 100 years of existence and undefeated in the tournament, were also eager to shine in the final after a long absence from such a stage.
The match began with a minute of silence for departed Kenya Lionesses lock Bernadette Olesia.
Nondies were quick off the blocks and off a penalty, they got a break on the following an offload to Moses Begi and the try was converted by Dan Okito for a 7-0 lead.
The students pulled back following an Andrew Matoka break on the left win and he raced on to score a try that Stephen Osumba converted for a 7-7.
There were no scores in the second half and the second half had to be decided by sudden death. Sudden death, Leos won a penalty and elected to go for a drop kick but Osumba's kick went wide.
Strathmore Leo's bright attack was thwarted by a knock-on. Nondies would go for a long kick off the scrum and their chase was fruitful.
A slip by a Leos player allowed a Nondies player to kick the ball to the try-box and his charging teammate Charles Odhiambo dived and grounded the ball for a win.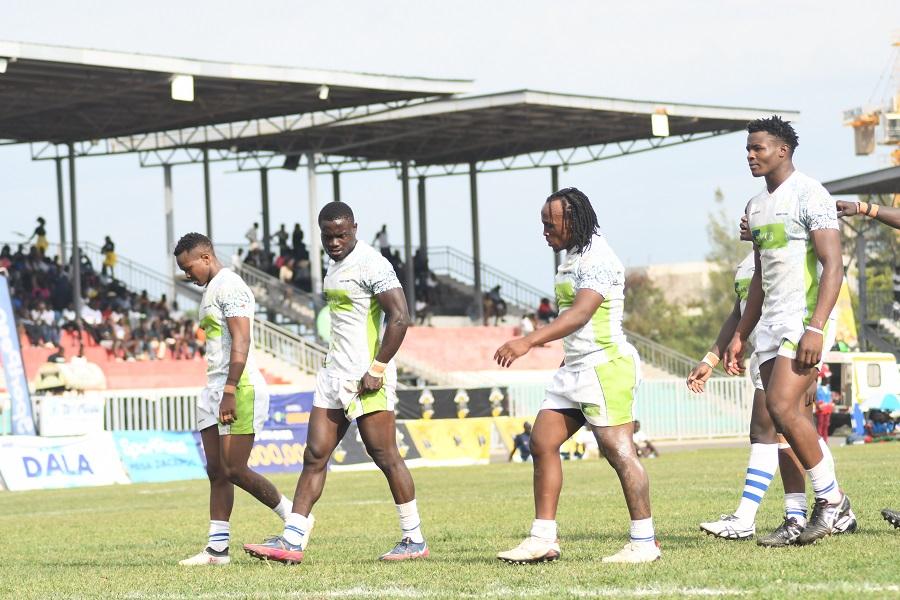 Mwamba RFC secured the bronze in the Tisap 7s by defeating Menengai Oilers 12-7. Having overcome the quarterfinal hurdle, they now look forward to performing well in their home tournament, Kabeberi 7s, next weekend.
Our #Tisap7s weekend in numbers. A much-improved performance from the Boyz. Focus now shifts to #Kabeberi7s. Eldoret, You have been good to the #WellOiledMachine. Let's get #ChampagneRugby on the road…#MenengaiCream #KenyasNo1BarSoap pic.twitter.com/Rm705xCb6I

— Menengai Oilers (@MenengaiOilers) September 3, 2023
KCB Rugby claimed the fifth position in the Tisap 7s, narrowing the gap between them and Kabras RFC, who lead the standings, to just one point on top of the log.
They achieved this with a 21-14 victory over log leaders Kabras RFC, thanks to three converted tries in the match.
In the ninth-place playoffs, Kenya Harlequin emerged victorious, winning the challenge trophy with a 31-12 triumph over Nakuru RFC.
Tisap 7s day two
Challenge Trophy
Homeboyz 0-10 MMUST
Nakuru 21-14 Daystar
Monks 17-0 Mombasa
Kenya Harlequin 45-0 UoE Trojans
Cup quarters
KCB Rugby 5-10 Menengai Oilers
Nondies 10-7 Kisumu
Strathmore Leos 26-0 Blak Blad
Kabras RFC 5-19 Mwamba
13th place semis
Homeboyz 14-10 Daystar Falcons
Mombasa 10-15 UoE Trojans
Challenge Semis
MMUST 19-24 Nakuru
Monks 7-26 Kenya Harlequins
Fifth place semis
KCB 29-7 Kisumu
Blak blad 12-38 Kabras
Semis
Menengai Oilers 7-10 Nondies
Strathmore Leos 8-5 Mwamba
13th place
Homeboyz 14-10 UoE Trojans
Ninth place
Nakuru RFC 12-31 Kenya Harlequin
Fifth place
KCB Rugby 21-14 Kabras RFC
Third place
Menengai Oilers 7-12 Mwamba
Final
Nondies vs Strathmore Leos