KCB Rugby and Kabras RFC continued to assert their dominance in 7s rugby after posting wins with impressive scorelines in the second round of matches of the ongoing Tisap 7s at Eldoret Sports Club in Eldoret.
The two have qualified for the quarters alongside Nondies who have also booked a place in the quarters with a game to spare..
Tisap 7s Pool A
KCB Rugby continued with their impressive run as they blanked Mombasa 28-0 to move to six points in pool A.
Homeboyz and Blak Blad settled for a 14-all draw. Blad stay second in pool A with 5 points as Homeboyz come in third with three points. Mombasa RFC are still winless at the fourth spot.
Pool B
Menengai Oilers defeated Catholic Monks 12-7 to go top of pool B with six points. Strathmore Leos bounced back from their first-game loss to fend off MMUST 31-7.
Leos are now in second place with four points as MMUST bow out of main cup contention.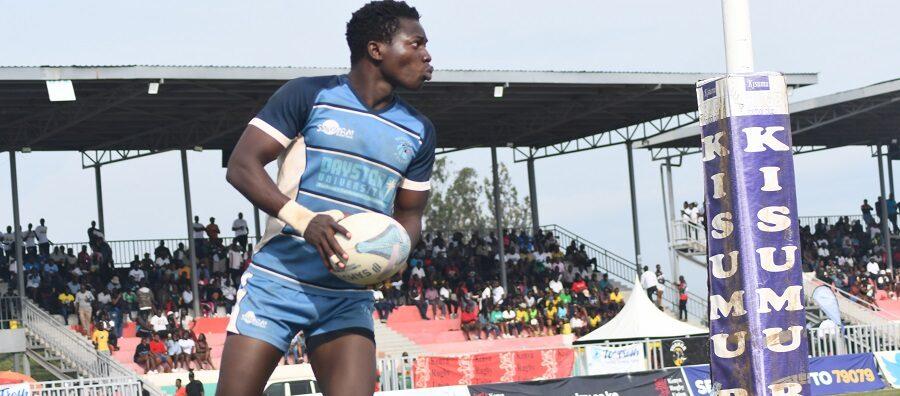 Monks sit third with four points, the same as Strathmore but with an inferior goal difference.
The race for the top spot in this pool is set to go down the wire as Oilers meet with Leos in their final pool game with the winner booking a slot in cup quarters.
Tisap 7s Pool C
Kabras Sugar are through to Cup quarters after defeating Kisumu RFC 22-7 in their second game. They sit comfortably at the top with six points and a massive goal difference.
Kenya Harlequin come in second with four points thanks to a 19-12 win over Daystar Falcons. They are tied on points with third-placed Kisumu RFC but the former sit second courtesy of a superior goal difference. Daystar Falcons stay fourth with two points.
Pool D
Nondescripts won their second game in Tisap 7s after edging Mwamba RFC 26-19. Nondies now sit top of pool D with six points.
Mwamba, who are still winless, are third placed with three points. Nakuru RFC thumped UoE Trojans 24-5 to amass four points. Nakuru are now placed second in pool D.
Tisap 7s results
1 0900 Blak Blad 17-7 Mombasa
2 0920 KCB 33-5 Homeboyz
3 0940 Menengai Oilers 14-12 Masinde Muliro
4 1000 Strathmore Leos 5-12 Catholic Monks
5 1020 Kenya Harlequins 7-14 Kisumu
6 1040 Kabras Sugar 24-7 Daystar Falcons
7 1100 Mwamba 19-19 UoE Trojans
8 1120 Nakuru 5-21 Nondescripts
9 1150 Blak Blad 14-14 Homeboyz
10 1210 KCB 28-0 Mombasa
11 1230 Menengai Oilers 12-7 Catholic Monks
12 1250 Strathmore Leos 31-7 Masinde Muliro
13 1310 Kenya Harlequin 19-12 Daystar Falcons
14 1330 Kabras Sugar 22-7 Kisumu
15 1350 Mwamba 19-26 Nondescripts
16 1410 Nakuru 24-5 UoE Trojans
17 1440 Homeboyz v Mombasa
18 1500 Catholic Monks v Masinde Muliro
19 1520 Daystar Falcons v Kisumu
20 1540 Nondescripts v UoE Trojans
21 1600 KCB v Blak Blad
22 1620 Strathmore Leos v Menengai Oilers
23 1640 Kabras Sugar v Kenya Harlequin
24 1700 Nakuru v Mwamba