The KSSSA National Rugby 7s Games commenced at the Bull Ring in Kakamega County with defending champions, Koyonzo high School Rugby securing a 19-0 victory in their opening match.
Koyonzo landed three tries and converted two, solidifying their triumphant start to the tournament.
KSSSA National Rugby 7s
Joining Koyonzo on the list of victors were Alliance who secured a convincing 22-0 win over Shimba Hills, while Vihiga dominated the field with a resounding 36-0 victory against Maseno. The Upperhill team delivered a staggering performance, notching an impressive 53-0 win against Eastern Representatives Wayam High.
Lenana managed to secure a hard-fought 14-5 win against Kiambu, while Menengai High started off with Garashi High picking a score of 21-5.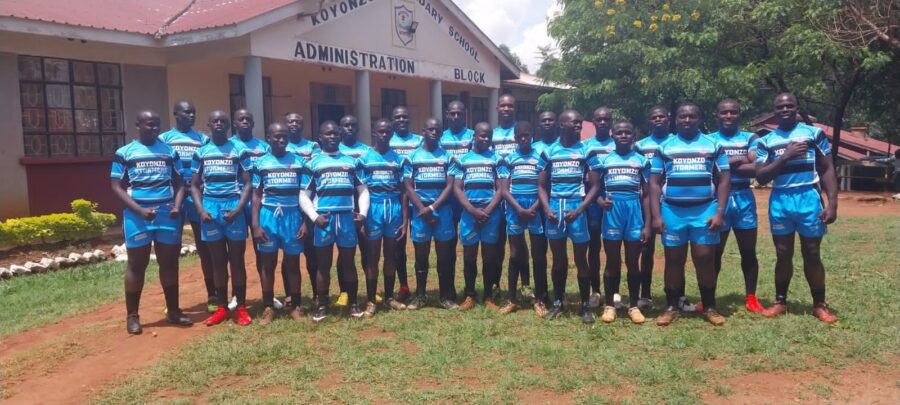 The Kitondo team completed a double following 26-7 victory over Kangaru, while Bungoma High edged out St. Mary's Yala with a narrow 7-5 win.
In the girls' category, Eregi displayed their mettle with a notable 24-5 win over Koru, while Nkuene triumphed over Cannon Kituri with a commendable 19-0 scoreline.
St. Maurice clinched a 10-0 victory against Bushiangala as Bishop Sulumeti left a lasting impression by securing a remarkable 29-0 win against Paul Harris in a dominant display.
Kinale and Nyamira girls' teams settling for a 00-00 draw, highlighting their closely contested battle on the field.
Meanwhile, Hidden Talent showcased their prowess with a convincing 25-5 win over Kivandini, and Gilgil asserted their dominance with a resounding 30-0 victory against Silver.
2023 KSSSA National Rugby 7s Pools
Pool A: Koyonzo, Alliance, Friends Bwake, Shimba hills
Pool B: Vihiga, Lenana, Maseno, Kiambu
Pool C: Menengai, Kitondo, Garashi, Kangaru
Pool D: St Mary's Yala, Upper Hill, Bungoma , Wayam
KSSSA National Rugby 7s results
Day one collated results
Eregi 24-5 KORU
Nkuene 19-0 Cannon Kituri
Koyonzo 19-0 Bwake
Alliance 22-0 Shimba Hills
St Maurice 10-0 Bushiangala
B Sulumeti 29-0 Paul Harris
Vihiga 36-0 Maseno
Lenana 14-5 Kiambu
Hidden Talent 25-5 Kivandini
Madira Girls 17-0 Jomo Kenyatta
Menengai High 21-5 Garashi High
Kitondo 26-7 Kangaru
Kinale 00-00 Nyamira
Gilgil 30-0 Silver
Bungoma High 7-5 St Mary's Yala
Upperhill 53-0 Wayam High