The Prinsloo 7s men's category will kick off on Saturday 5th August with the opener set to be the between Kisumu and Western Bulls at 9:20 am.
Some of the exciting matches lined up include Kabras Sugar facing off against Homeboyz at 9:40 am, and Nondescript taking on Catholic Monks at 10:00 am.
Prinsloo 7s holders Oilers
The Defending Champions Menengai Oilers will go head-to-head against Nakuru in a Nakuru derby at 10:40 am, followed by Kenya Harlequin locking horns with Blak Blad at 11:00 am.
KCB Rugby play against Masinde Muliro at 11:20 am and Mwamba face Zetech Oaks at 11:40 am. The second round is expected to kick off at at 12:10 while the final round is set end at 5:20.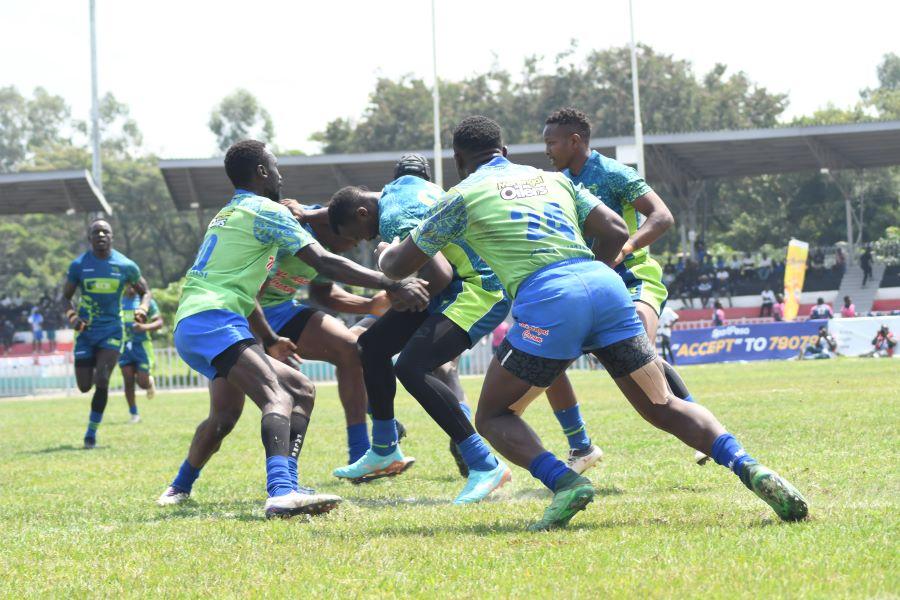 Day 2, Sunday 6th August, promises to be just as riveting as the first. The knockout stages will begin with challenging Quarter-Finals in both the Challenge and Cup categories.
Teams will compete fiercely for a spot in the semi-finals and ultimately aim for the grand finals.
Prinsloo 7s
Day 1, Saturday 5 August 2023
MATCH TIME FIXTURE RESULT
1 920 Kisumu v Western Bulls
2 940 Kabras Sugar v Homeboyz
3 1000 Nondescript v Catholic Monks
4 1040 Menengai Oilers v Nakuru
5 1100 Kenya Harlequin v Blak Blad
6 1120 KCB v Masinde Muliro
7 1140 Mwamba v Zetech Oaks
8 1200 Strathmore Leos v Daystar Falcons
9 1210 Kisumu v Homeboyz
10 1230 Kabras Sugar v Western Bulls
11 1250 Nondescript v Nakuru
12 1310 Menengai Oilers v Catholic Monks
13 1330 Kenya Harlequin v Masinde Muliro
14 1350 KCB v Blak Blad
15 1410 Mwamba v Daystar Falcons
16 1430 Strathmore Leos v Zetech Oaks
17 1500 Homeboyz v Western Bulls
18 1520 Nakuru v Catholic Monks
19 1540 Masinde Muliro v Blak Blad
20 1600 Daystar Falcons v Zetech Oaks
21 1620 Kabras Sugar v Kisumu
22 1640 Menengai Oilers v Nondescript
23 1700 KCB v Kenya Harlequin
24 1720 Strathmore Leos v Mwamba
Day 2, Sunday 6 August 2023
MATCH TIME CATEGORY FIXTURE RESULT
25 920 Challenge QF A3 v B4
26 940 Challenge QF D3 v C4
27 1000 Challenge QF C3 v D4
28 1020 Challenge QF B3 v A4
29 1040 Cup QF A1 v B2
30 1100 Cup QF D1 v C2
31 1120 Cup QF C1 v D2
32 1140 Cup QF B1 v A2
33 1210 13th place semi Loser M25 v Loser M26
34 1230 13th place semi Loser M27 v Loser M28
35 1250 Challenge semi Winner M25 v Winner M26
36 1310 Challenge semi Winner M27 v Winner M28
37 1330 5th place semi Loser M29 v Loser M30
38 1350 5th place semi Loser M31 v Loser M32
39 1410 Cup semi Winner M29 v Winner M30
40 1430 Cup semi Winner M31 v Winner M32
41 1500 13th place final Winner M33 v Winner M34
42 1520 Challenge final Winner M35 v Winner M36
43 1600 5th place final Winner M37 v Winner M38
44 1620 3rd place playoff Loser M39 v Loser M40
1640 Division 2 final
45 1710 Cup final Winner M39 v Winner M40