Nondies Legends started their legacy projection of rugby talent development by carrying out a coaching clinic and donating rugby equipment to Shamas Rugby Foundation(SRF) at the Tatu City Primary on Friday last week.
SRF is a charity organizations that operates in the major slum areas in Nairobi county ( Kibera, Mathare, Korogocho, Uthiru ,and Eastlands ) and in Kiambu county ( Tatu City, Kongo, Ngewe, and in Oakland's) with the aim of helping children from disadvantage background through life skills programs, education and using rugby as an entry point.
Nondies Legends, on the other hand, are made up of former Kenya national team and club rugby players who continue to serve the game through partial play and in nurturing rugby talent development.
The Nondies Legends contingent was led by SRF chairman Tito Oduk alongside other Kenya Rugby legends including Victor Sudi, Vincent Mose, Oscar Osir, Moses Mukabane and their captain Eddie Omondi just to mention a few.
Addressing 220 SRF age grade rugby players the chairman Mr. Tito Oduk said "This game will take you places if you focus on improving your skills and not quit because there is so much to learn from rugby including it's core values of discipline, respect, integrity, passion and teamwork."
Former Kenya Simba's and shujaa speedster Oscar Osir encourage the coaches to continue doing the good work that he has seen. "I am impressed by your handling skills at this age and we appreciate the work the coaches are doing which is very important at this age. Rugby has personally shaped my life and has been of great help, I therefore urge you to embrace it and enjoy it as it will take you places ."
The Nondies Legends played a touch game against SRF U18 squad in a tightly contested match that thrilled the children and fans in the final match of the day.
Commenting on the match, the Nondies Legends captain Eddie Omondi exclaimed "You are passing the ball better than us and that is an indication the future is very bright, thank you for the tough match and the medals."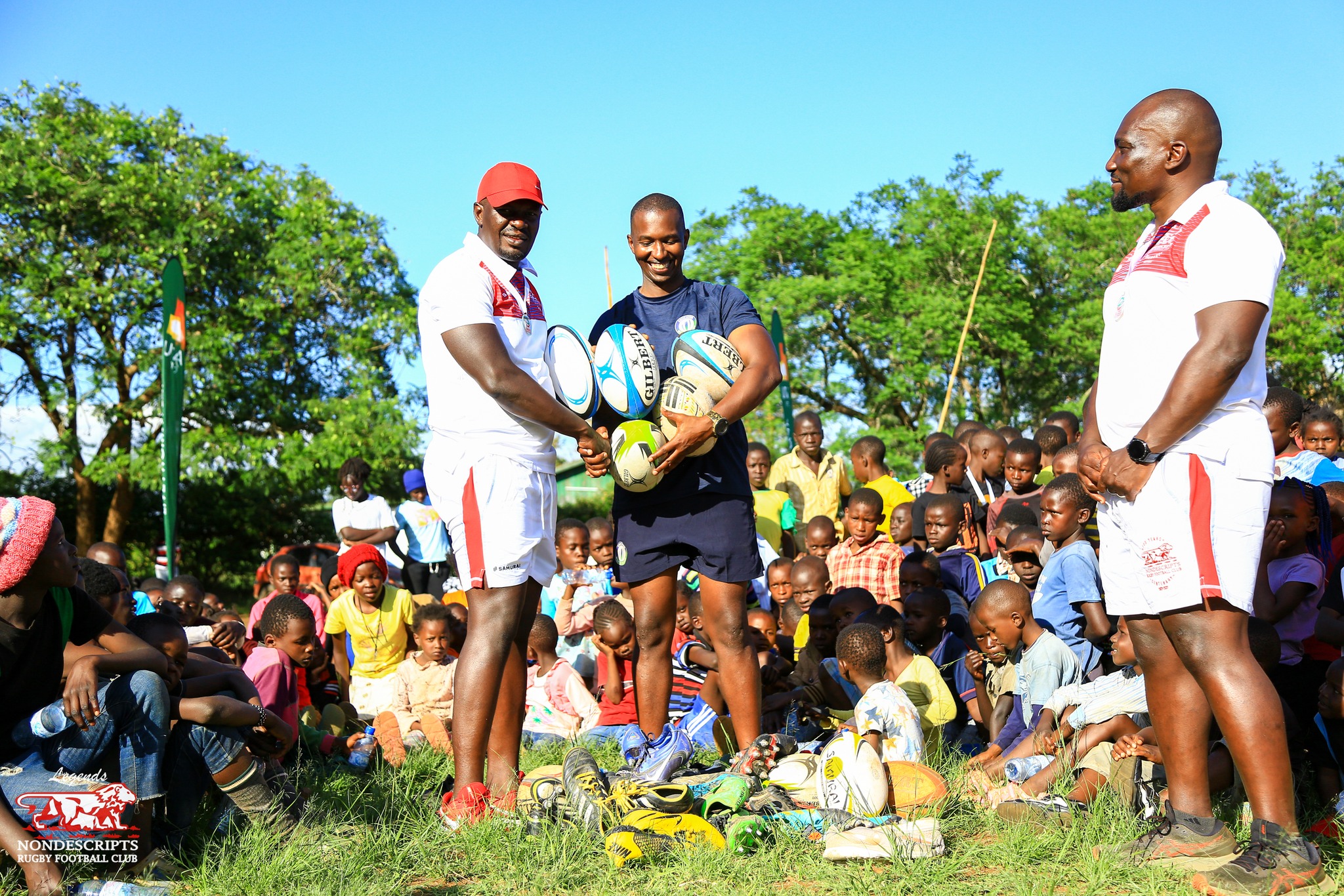 Former Kenya Simba's and Shujaa skipper Victor Sudi on his part reminded the kids of their part to also put in a worthy shift in their academics. "It's all about enjoying yourselves but make sure you also work hard in school so that you give yourself a better chance for a better life in future. We will continue to support you, and keep up the good work."