Nondies have unveiled their squad that will be on duty in the Christies 7s scheduled for Saturday and Sunday.
Derrick Mayar, Steve Ortice, Dan Okito and  Victor Rogena are set to miss this weekend's clash.
In their absence Coach Callum Oliver has included Steve Odhiambo, 15s captain Fidel Oloo and Charles Odhiambo to fill their voids.
Former Kenya 7's stars Biko Adema, and Samuel Motari lead the squad that also has Kennedy Wanyoike, Moses Begi,Sankara Wafula,  Brian Omondi and Sumba Saidi.
Ian Mabwa and  Calvin Sheunda are the co-captains.
Nondies will square it out in Pool C with Menengai Oilers, Kabras RFC and MMUST Rugby Club
Nondies finished 13th in last weekend's competition and will seeking to improve this weekend.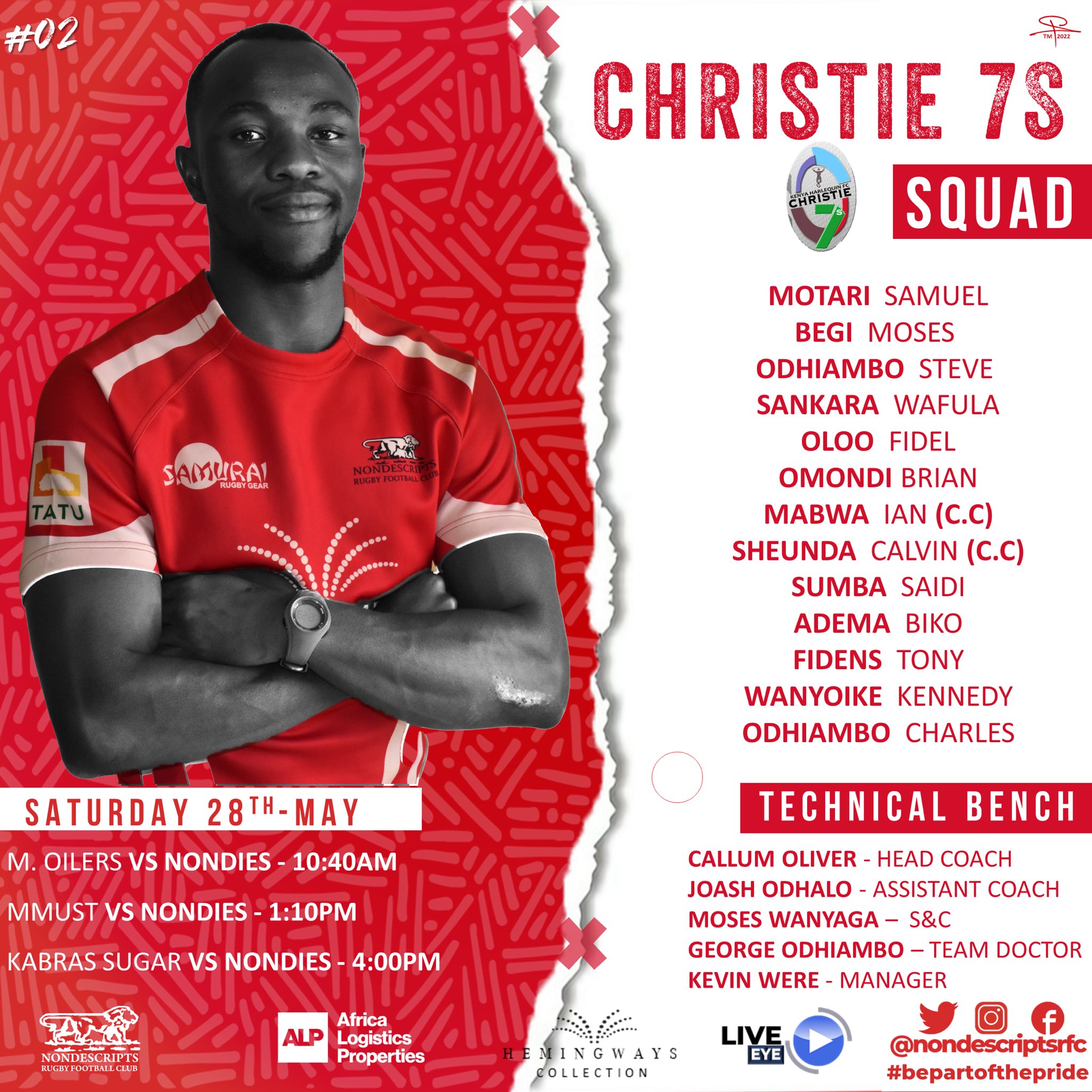 Christie Sevens Day 1 Order Of Play
900am  Nakuru RFC v Kenya Harlequin
920am  KCB Rugby v JumiaPay Pirates
940am  Daystar Falcons v Blak Blad
1000am Strathmore Leos v Impala
1020am MMUST Rugby v Kabras RFC
1040am Menengai Oilers v Nondies
1100am Mwamba Rugby Club v Western Bulls
1120am Homeboyz v Catholic Monks
1150am Nakuru v JumiaPay Pirates
1210pm KCB Rugby v Kenya Harlequin
1230pm Daystar Falcons v Impala
1250pm Strathmore Leos v Blak Blad
110pm  MMUST Rugby v Nondies
130pm  Menengai Oilers v Kabras RFC
150pm  Mwamba Rugby Club v Catholic Monks
210pm  Homeboyz v Western Bulls
320pm Kenya Harlequin v JumiaPay Pirates
340pm KCB Rugby v Nakuru RFC
400pm Blak Blad v Impala
420pm Strathmore Leos v Daystar Falcons
440pm Kabras RFC v Nondies
500pm Menengai Oilers v MMUST Rugby Club
520pm Western Bulls v Catholic Monks
540pm Homeboyz v Mwamba Rugby Club