Derrick Kinyari, Gilbert Odhiambo have been included in Impala's squad that will take part in Christies Sevens this weekend.
Kinyari will make his first National 7s Circuit appearance for the gazelles. Mark Akide will also be playing for his first time this weekend.
Paul Matsami will captain the team and he will be assisted by Anthony Odhiambo. Frank Aduda Hannington Mmbaka, Anderson Oduor, Churchill Obat, Samuel Maina, Sammy Kimakwa, Karl Siambe and Johnson Waiganjo complete the 13 man squad.
Impala are in pool B with students; Strathmore Leos, Daystar  Falcons and Blak Blad.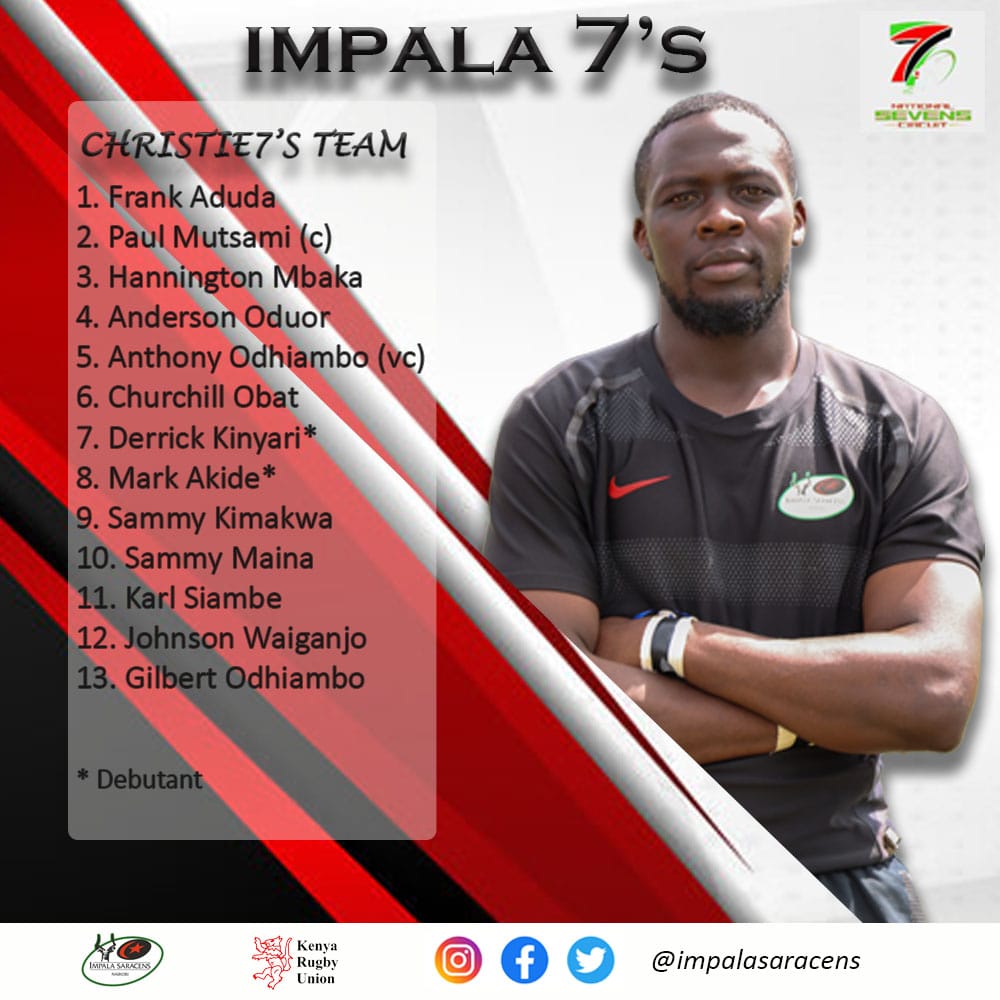 Christie Sevens Day 1 Order Of Play
900am  Nakuru RFC v Kenya Harlequin
920am  KCB Rugby v JumiaPay Pirates
940am  Daystar Falcons v Blak Blad
1000am Strathmore Leos v Impala
1020am MMUST Rugby v Kabras RFC
1040am Menengai Oilers v Nondies
1100am Mwamba Rugby Club v Western Bulls
1120am Homeboyz v Catholic Monks
1150am Nakuru v JumiaPay Pirates
1210pm KCB Rugby v Kenya Harlequin
1230pm Daystar Falcons v Impala
1250pm Strathmore Leos v Blak Blad
110pm  MMUST Rugby v Nondies
130pm  Menengai Oilers v Kabras RFC
150pm  Mwamba Rugby Club v Catholic Monks
210pm  Homeboyz v Western Bulls
320pm Kenya Harlequin v JumiaPay Pirates
340pm KCB Rugby v Nakuru RFC
400pm Blak Blad v Impala
420pm Strathmore Leos v Daystar Falcons
440pm Kabras RFC v Nondies
500pm Menengai Oilers v MMUST Rugby Club
520pm Western Bulls v Catholic Monks
540pm Homeboyz v Mwamba Rugby Club