Nondies have released their squad that will be on duty at the Kabeberi 7s Tournament scheduled for RFUEA Grounds on Saturday and Sunday 21-22 May 2022.
The squad will have Dan Okito and Ian Mabwa as co-captains. Former Kenya 7s stars Biko Adema, Derrick Mayar and Samuel Motari have been included in the squad.
Victor Rogena, Moses Begi, Saidi Sumba, Wafula Sankara,  Steve Ortice and youngsters Kennedy Wanyoike, Brian Omondi, Fidens Tony and Calvin Sheunda complete the 14-man list.
Joash Odalo coached side will face off with hosts and Kabeberi 7s defending champions Mwamba, Nondies, Strathmore Leos and Mean Machine in the pool stage matches.
Nondies: Derrick Mayar, Dan Okito (C.C), Ian Mabwa (C.C),  Samuel Motari, Victor Rogena, Fidens Tony, Biko Adema, Moses Begi, Saidi Sumba, Kennedy Wanyoike, Wafula Sankara, Calvin Sheunda, Steve Ortice, Brian Omondi.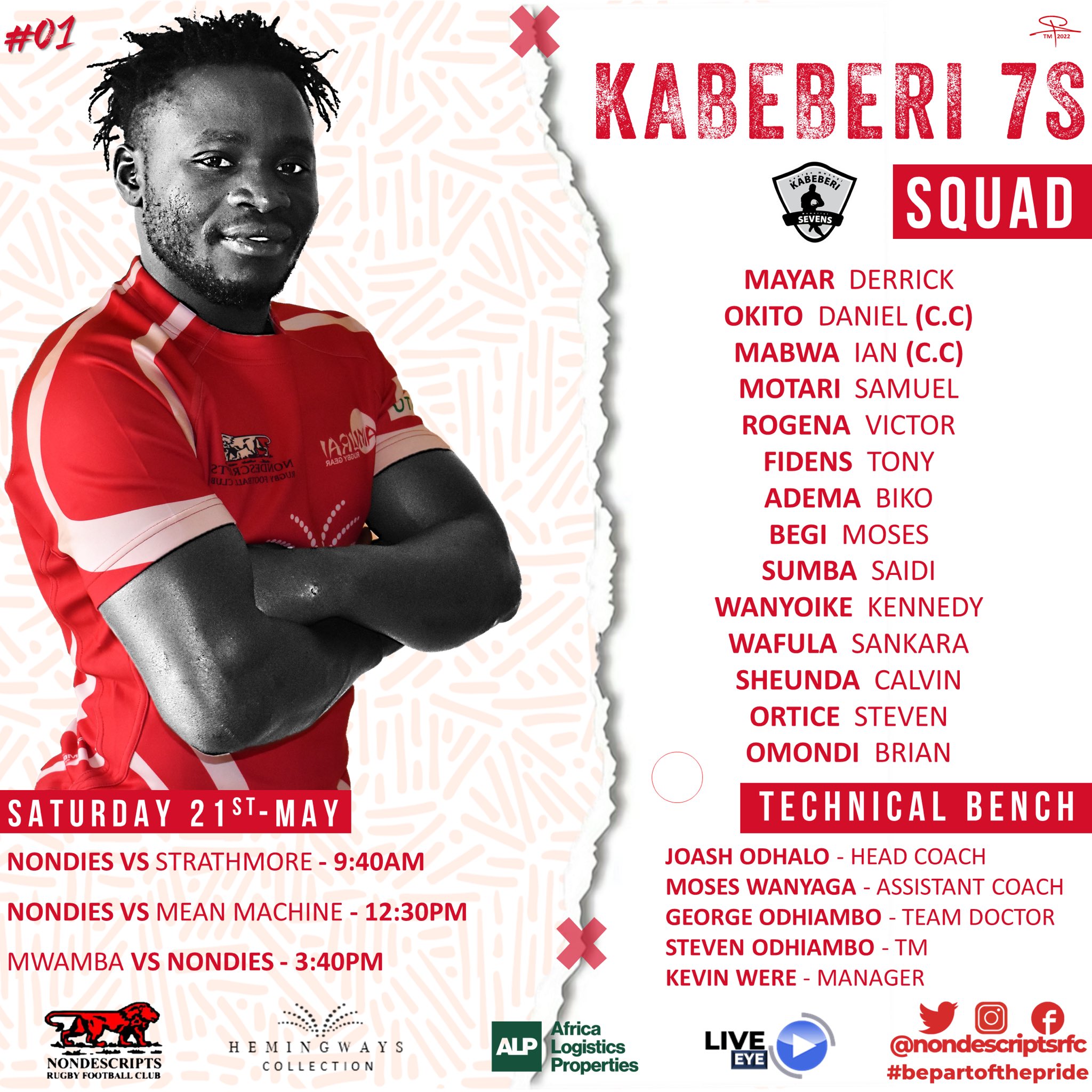 Nondies fixtures: 
9:40am Nondies v Strathmore Leos
12:30pm Nondies v Mean Machine
3:40pm Mwamba v Nondies
2022 National 7s Circuit dates
21/22 May: George Mwangi Kabeberi Memorial 7s, RFUEA Grounds
28/29 May: Christie 7s, RFUEA Grounds, Nairobi
18/19 June: Driftwood 7s, Mombasa Sports Club, Mombasa
2/3 July: Dala 7s, Jomo Kenyatta Stadium, Kisumu
9/10 Jul: Prinsloo 7s, Nakuru Athletic Club, Nakuru
16th/17th  July: Kakamega 7s, The Bull Ring, Kakamega