Kenya 7s are the Africa Men's Champions and have qualified for the Olympics after a 17-12 over South Africa in the final played at Harare Sports Club on Sunday.
Its Kenya 7s' sixth Africa title. In this highly anticipated Africa Men's 7s tournament, both South Africa and Kenya found themselves competing for the coveted ticket to the 2024 Olympics, following a disappointing season in the World 7s Series.
While South Africa missed out on a direct Olympic qualification spot during the Series, Kenya faced the setback of relegation.
Kenya 7s run
Throughout the tournament, these two African rugby powerhouses displayed unwavering dominance, boasting a perfect record of five consecutive wins. South Africa, however, entered the final as the favoured team, having previously asserted their supremacy over Kenya.
With the ultimate prize being a direct ticket to the Paris Olympics, the stakes were undeniably high in this championship clash.
The clash between Shujaa and South Africa in the Africa Men's 7s tournament was nothing short of intense, with Olympic qualification hanging in the balance.
It was Shujaa who struck first, as Patrick Odongo showcased remarkable speed, outpacing his marker Rosko Specman to score a crucial centre post try. Tony Omondi's accurate conversion provided Kenya with an early 7-0 lead.
South Africa swiftly retaliated, with Selvyn Davids displaying deft footwork to elude John Okoth and secure a try. However, Ronald Brown's conversion attempt went amiss.
The South African side extended their lead when Christie Grobbelaar showcased exceptional speed, sprinting to the try line and putting his team ahead with a score of 12-7, following a successful conversion. The first half concluded with South Africa firmly in the lead.
As the second half commenced, Kenya 7s wasted no time in drawing level. Vincent Onyala executed a precise offload to set up Odongo for his second try, equalizing the scores.
South Africa encountered a setback when Ishmael Travis was forced to leave the field due to injury. Seizing the opportunity, Kenya 7s capitalized on a moment of vulnerability in the South African defence. Okoth secured a crucial try on the left flank, catching South Africa off guard.
With this victory, Kenya 7s earned the coveted Olympic qualification ticket, while South Africa will redirect their focus to the Challenger Series as they continue their pursuit of the final Olympic slot.
Uganda 7s wins Bronze
In the bronze medal match, Uganda orchestrated a remarkable comeback to secure a 24-12 victory over the resilient Zimbabwe Cheetahs. This win not only secured Uganda the third spot on the podium but also provided them with sweet revenge against their opponents, having lost on Saturday.
Zimbabwe, eager to achieve a weekend double over Uganda, kicked off the match on a positive note, swiftly scoring a try. However, Adrian Kasito responded for Uganda after a scrum pick, leveling the score.
Philip Wokorach then showcased his skill, executing a clever dummy off a ruck before slicing through Zimbabwe's defense to score the second try.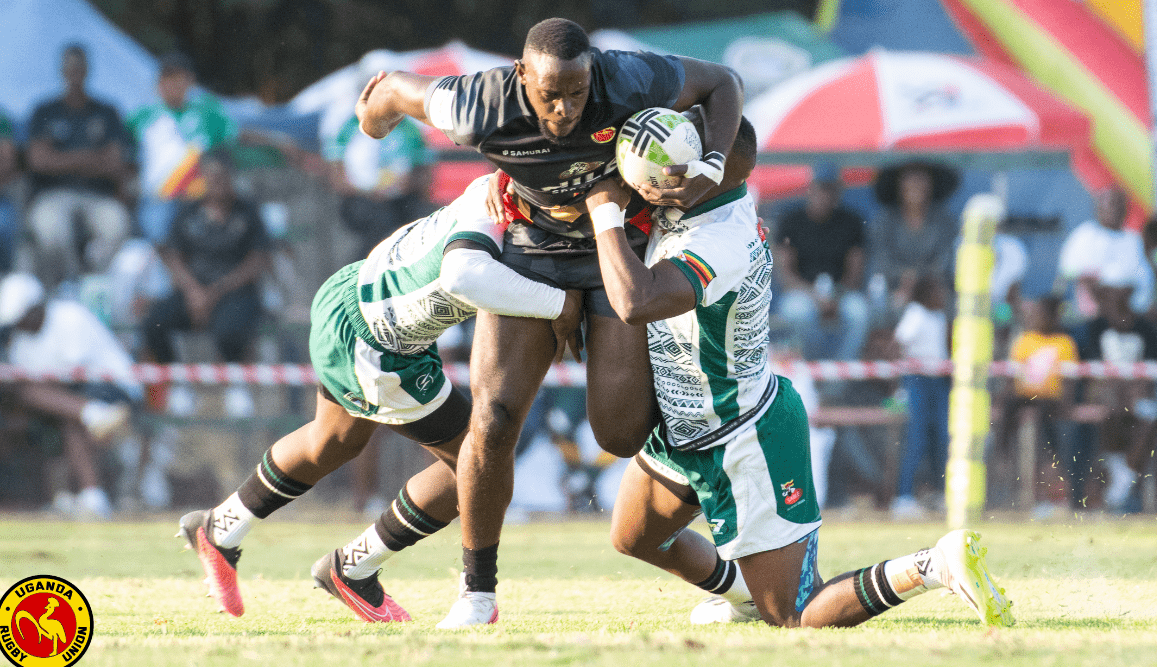 Uganda returned from the halftime break with renewed vigor. After a ruck on the far right, the ball was moved to the left, finding Isaac Massa, who added another try to Uganda's tally, making it 17-5.
Zimbabwe's Ryan Musumhi displayed brilliance with a sensational try, sprinting into Uganda's zone to score, narrowing the gap.
Wokorach once again proved instrumental in Uganda's victory, as he executed a dummy and fended off his marker to secure a clear path to the try line.
Uganda clinched the third-place finish and will now set their sights on the Challenger Series, a crucial step in their quest for Olympic qualification.
Africa Men's 7s Cup Quarters
QF1 | Kenya 7s 26-0 Burkina Faso
QF2 |Zimbabwe 26-10 Madagascar
QF3 |Zambia 15-29 Uganda
QF4 | South Africa 27-0 Nigeria
9th Place semis
Tunisia v Algeria| 1128
Namibia v Ivory Coast
5th Place Semis
Burkina Faso v Madagascar
Zambia v Nigeria
Cup Semis
Kenya 7s 35-10 Zimbabwe
Uganda 14-26 South Africa
11th Place Playoff
Algeria 26-19 Ivory Coast
9th Place Playoff
Tunisia 19-14 Namibia
7th Place Playoff
Madagascar 43-17 Nigeria | 1550
5th Place Playoff
Burkina Faso 26-33 Zambia| 1614
Bronze Medal Playoff
Uganda 24-12 Zimbabwe | 1641
Gold Medal Match
Kenya 7s 17-12 South Africa | 1718