The Christie 7s semi-final pairings have been confirmed with log leaders Kabras RFC, defending Champions Strathmore Leos, Nakuru RFC and KCB Rugby having qualified for the matches set for the afternoon at RFUEA Grounds.
Kabras RFC now on a 16-match winning streak will take Leos as they hope to reach their fourth consecutive final this season.
In the second semi-final, Nakuru RFC making their maiden appearance in the semis will face KCB Rugby currently playing in their fourth semis.
Kabras RFC in Christie 7s semis
The Sugarmen beat hosts Kenya Harlequin 21-14 in a tightly contested match.
A kick by Kabras saw them punished by hosts Quins whose attack resulted in a try by former Kabras man Felix Makokha. The try was converted for a 7-0.
Pressure by Kabras saw Quins knock in their own zone and off the scrum, the ball was fed to Brian Tanga who chose a crosskick to find Lamec Ambetsa. Ambetsa danced through for a converted try to tie the sores at 7-7.
In the second half, Kenya Harlequin chose to kick and Kabras regained the ball, secured a ruck and from it, Brian Tanga raced on to give Kabras a lead after a try and a conversion.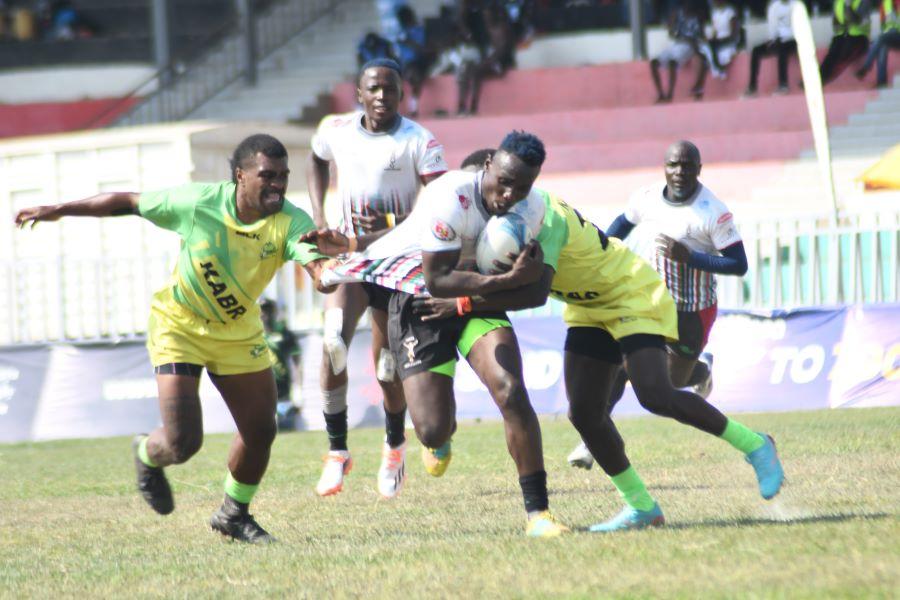 Kenya Harlequin won back possession following a knock-on by Kabras. Off the scrum, Cornelius Mokoro cheekily sneaked past Kabras' defence for a converted try for a 14-14 tie.
Kabras scored through Jone Kubu but their try was cancelled before the referee awarded them a scrum. Off the scrum, Dan Angwech attacked the left and fed Kubu who beat his marker at the right corner to score. The conversion saw them win 21-14.
Nakuru RFC in the semis
Nakuru RFC qualified for the semis for the first time this season following a 12-5 win over Blak Blad.
Wanyore scored the opener through Paul Lusesi while captain Hanningtone Wabwire stretched the lead with a converted try for a 12-0 lead. Blak Blad lost Kennedy Claude to a yellow card but did not concede more.
In the second half, Claude came on and score the opener for Blad to get back into the game. Nakuru however held on.
It was captain Vincent Onyala who opened the scores
Christie 7s holders Leos
Strathmore Leos returned to the semis after a 12-5 win over Menegai Oilers.
Leos started off with a try by Elton Amalemba before Menengai Oilers pulled back through a try by Clinton Odhiambo.
In the second half, Kenyan International Andrew Matoka scored and the try was enough to see them through. The loss puts a dent in Menengi Oilers' title defence hopes.
KCB stormed into the semis for the fourth consecutive semis this season following a 24-5 win over Mwamba.
It was after captain Vincent Onyala beat his markers to score the opener. After two knock-ons denied him two clear scoring opportunities, Brian Mutugi scored off a kick to hand Mwamba a lifeline.
Festus Shiasi was able to restore KCB's lead when he danced through the defence for a try that was converted for 12-5.
In the second half, Shiasi scored at the left corner for a try that saw them lead 17-5.
Samuel Asati sealed their victory with their final try.
MATCH TIME CATEGORY FIXTURE RESULT
25 TBC Challenge QF MMUST 19-35 Homeboyz
26 TBC Challenge QF Nondies 19-14 Kisumu RFC
27 TBC Challenge QF Daystar Falcons 43-14 Impala
28 TBC Challenge QF Catholic Monks 10-0 Sigalagala
29 TBC Cup QF Kabras RFC 21-14 Kenya Harlequin
30 TBC Cup QF D1 v C2 Menengai Oilers 5-12 Strathmore Leos
31 TBC Cup QF B1 v A2 Blak Blad 7-12 Nakuru RFC
32 TBC Cup QF KCB Rugby Mwamba
33 TBC 13th Place Semi MMUST v Kisumu
34 TBC 13th Place Semi Loser Impala vs Sigalagala
35 TBC Challenge Semi Homeboyz v Nondies
36 TBC Challenge Semi Daystar Falcons v Catholic Monks
37 TBC 5th Place Semi Kenya Harlequin v Menengai Oilers
38 TBC 5th Place Semi Blak Blad v Mwamba
39 TBC Cup Semi Kabras RFC vs Strathmore Leos
40 TBC Cup Semi Nakuru RFC vs KCB
41 TBC 13th Place Final Winner M33 v Winner M34
42 TBC Challenge Final Winner M35 v Winner M36
43 TBC 5th Place Final Winner M37 v Winner M38
44 TBC 3rd Place Playoff Loser M39 v Loser M40
TBC Div 2 Final
TBC Women's Final
45 TBC Cup Final Winner M39 v Winner M40