Christie 7s defending Champions Strathmore Leos, National 7s Circuit leaders Kabras RFC, KCB Rugby, Nakuru RFC and Mwamba picked impressive wins in the opening round of the tournament.
There were upset in the opening round as hosts Kenya Harlequin and Homeboyz lost while Menengai Oilers drew.
Strathmore Leos moved top pool C following a comfortable 31-0 win over Kisumu RFC. Louis Kisia charges ran five tries and converted four to see off Lawrence Buyachi's side.
They are on level points with KCB Rugby who picked a 26-7 win over Catholic Monks. The bankers landed four tries in their victory over the students.
Christie 7s Pool A
In Pool A, National 7s Circuit leaders Kabras RFC started off with a 24-12 win over neighbours MMUST in a Lurambi Derby. Felix Ayange charges landed four tries to defeat the students who managed two tries in their loss.
Nakuru RFC beat Impala Saracens who were making the first top-tier appearance 21-5. Wanyore defeated Impala following three converted tries.
Nakuru and Kabras have three points each following the wins while MMUST and Impala have a point each.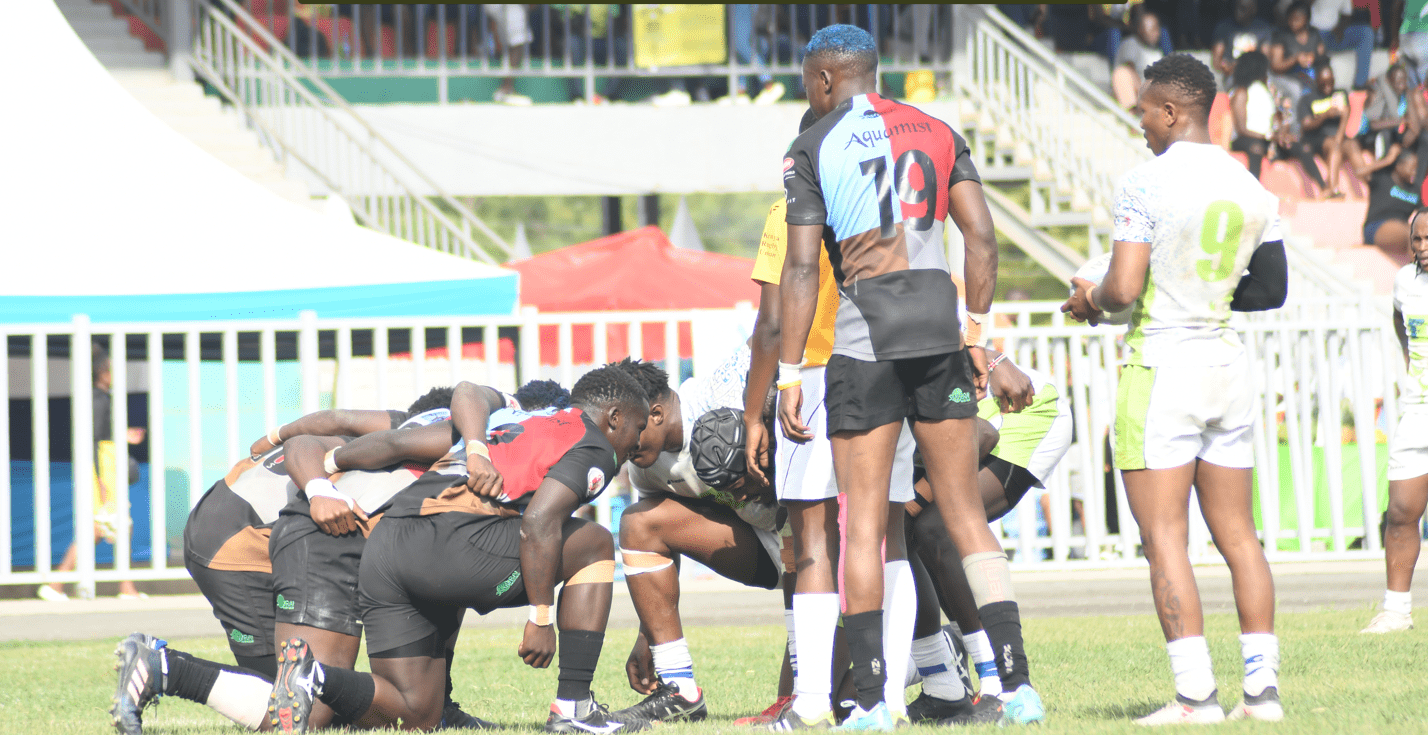 In Pool B, hosts Kenya Harlequin had a disappointing start losing 15-12 to Daystar Falcons. Another varsity side Blak Blad upset Homeboyz following a 24-19 scoreline.
Blad and Daystar are top in Pool B with three points each while Quins and Homeboyz are on a point each.
Menengai Oilers held in Christie
National 7s Circuit holders Menengai Oilers on Pool D were held to a 7-7 draw by Nondies in a cagey match that only had two tries.
Mwamba on the other hand are top in Pool D following a 27-14 win against newly promoted Sigalagala RFC. With the win , Kevin Wambua's side lead the standings in Pool D with three points while Menengai Oilers and Nondies are tied on two points each.
Christies 7s results
1 0800 Nakuru 21-5 Impala
2 0820 Kabras Sugar 24-12 Masinde Muliro
3 0840 Homeboyz 19-24 Blak Blad
4 0900 Kenya Harlequin 12-15 Daystar Falcons
5 0920 Strathmore Leos 31-0 Kisumu
6 0940 KCB 26-7 Catholic Monks
7 1000 Mwamba 27-14 Sigalagala
8 1020 Menengai Oilers 7-7 Nondescripts
WOMEN'S COMPETITION
9 1120 Nakuru v Masinde Muliro
10 1140 Kabras Sugar v Impala
11 1200 Homeboyz v Daystar Falcons
12 1220 Kenya Harlequin v Blak Blad
13 1240 Strathmore Leos v Catholic Monks
14 1300 KCB v Kisumu
15 1320 Mwamba v Nondescripts
16 1340 Menengai Oilers v Sigalagala
WOMEN'S COMPETITION
17 1440 Masinde Muliro v Impala
18 1500 Daystar Falcons v Blak Blad
19 1520 Catholic Monks v Kisumu
20 1540 Nondescripts v Sigalagala
21 1600 Kabras Sugar v Nakuru
22 1620 Kenya Harlequin v Homeboyz
23 1640 KCB v Strathmore Leos
24 1700 Menengai Oilers v Mwamba