After six matches played in the Currie Cup/Mzansi Challenge, the SWD Eagles have maintained their position at the top of the standings.
They currently hold 30 points on the Mzansi Challenge log, having won all six of their opening matches in the campaign.
The Eastern Province Elephants are in second place with 23 points, securing five wins and suffering one loss.
Valke occupy the third spot with 21 points, thanks to four victories in five matches played in the competition. The Boland Kavaliers also have 21 points but have played six matches, winning four.
The Leopards have won four out of their seven matches and currently have 20 points on the log. The San Clemente Rhinos have collected 17 points and are placed sixth in the standings.
Namibia's second win in the competition has pushed them to 12 points, placing them seventh on the Mzansi Challenge log.
Despite a 35-28 loss to Namibia, the Kenya Simbas have climbed to eighth place with seven points. They have managed to secure one win in South Africa.
The Border Bulldogs also have seven points, but their point differential is inferior to that of the Kenya Simbas.
The Zimbabwe Goshawks, who will be the Kenya Simbas' next opponents, currently have three points in the competition.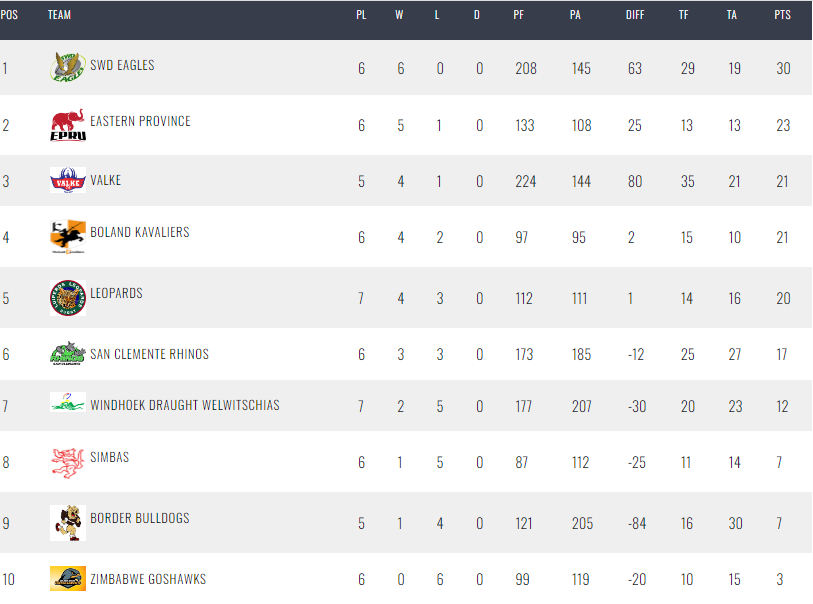 The top teams will meet in the semi-finals on 9/10 June), followed by the final a week later.