Her medical kit is always held firm in her white-gloved hands. In there are her tools of work. She is the first in line in ensuring players receive immediate medical assistance on the pitch during a rugby game. In a male-dominated game in the country, Kabras RFC physiotherapist Redemptor Chepwogen has stood firm to become one of a handful of female physios in the country.
The 24-year-old who holds a Bachelor's Degree in Physiotherapy, has been practising physiotherapy for over four years now. Her passion, discipline and motivation, she says, have been her driving force.
Redemptor Chepwogen entry in the game
Speaking to Scrummage Africa, the soft-spoken Redemptor said she fell in love with the game way before she started practising physiotherapy. Since she couldn't play the game, she vowed to infuse her career with rugby, to help in contributing towards the growth of standards of the game and also challenge other female physios to take on the challenge.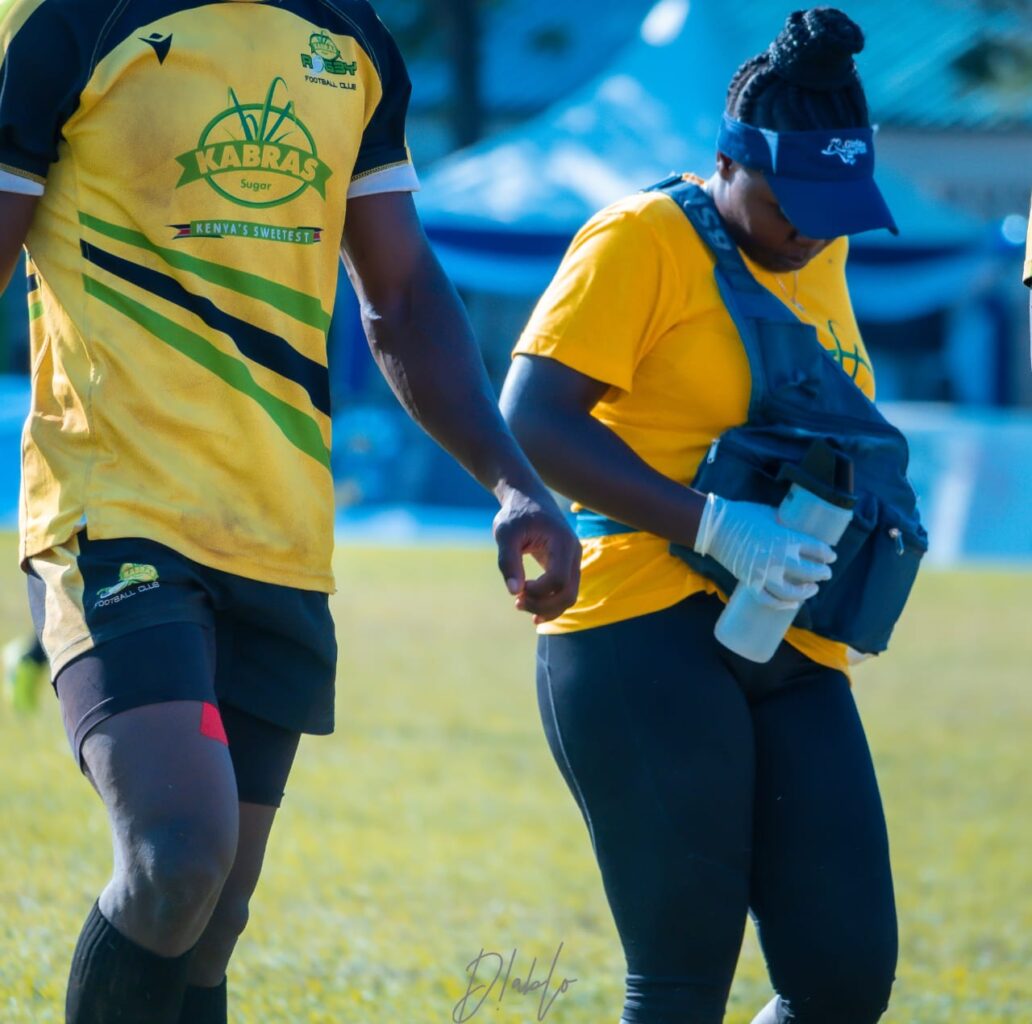 Red, as her close friends refer to her, started her trade at Western Bulls back in 2019. It was later in 2021 that she joined Kabras RFC.
"I have been practising physiotherapy for four years now. I started the profession in 2019 at Western Bulls, while I was still a student. I later moved to Kabras Sugar Rugby after their previous assistant physiotherapist got a job at Kenya Defence Forces. I applied for the position, went for an interview and I was lucky to get the job," she said.
Her biggest challenges while starting up she said, was the nervous chill of trying to fit in a 'beastly' male-dominated environment and trying to find her key role in the profession. However, as time progressed, she got accustomed to the environment and found her footing with the help of her boss, Philemon Odidi.
"Being a lady in a male-dominated environment can be nerve-wracking at first but these are gentle beasts and they quickly made me feel part of the family. It also helps that we have a ladies' team coming up through our development program, so I have company. My other biggest challenge was identifying my key role and fitting in. This was slightly new since this was a more professional set-up and had a lot of dynamic things," she said.
"Kabras Rugby is full of different personalities who helped me fit in and execute my roles adequately. My boss Mr Odidi was so accommodating and helped me gain confidence and showed me the ropes I had to follow into who I am today," she added.
For Redemptor, the best part of her job is when she helps rugby players return to the field smiling and out of pain. This, she says, goes a long way to even stabilising their mental health.
"I love it when I help players eliminate or reduce pain. This is the best part of physiotherapy, it helps in avoiding surgery, Improving overall strength and coordination and generally managing and preventing sports-related injuries among sports people. It also helps improve mental health among players," she said.
The growth of the sport in women has been on an upward trajectory although more needs to be done, to achieve full growth and development to see more females joining the game as players, coaches or technical bench.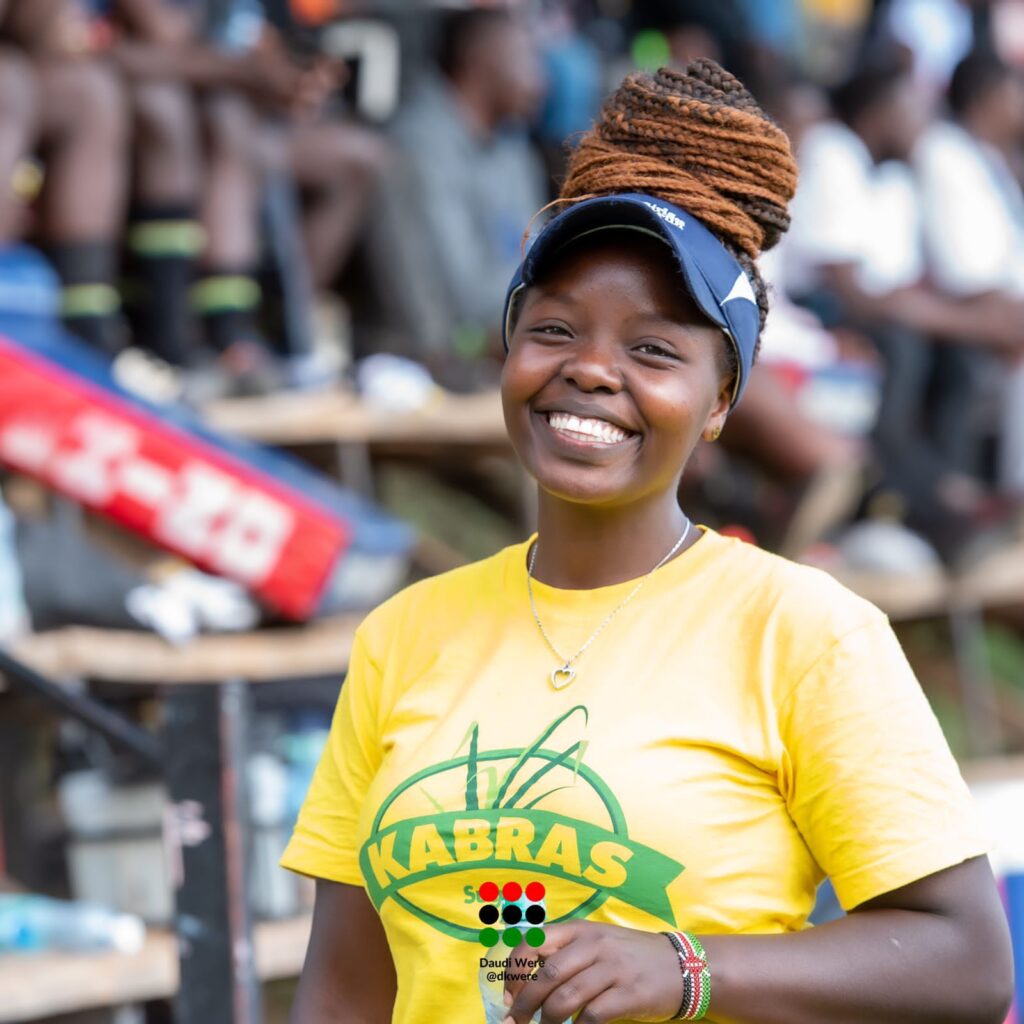 Introduction of more youngins
Redemptor, believes introducing the game to young boys and girls will help create more female rugby teams which will in turn accommodate more women to join the game.
"We need to teach young girls to love the game. This way if we provide a good rugby environment for them, they will be able to fight the challenges and this will increase the female teams in rugby locally," she said.
"I also challenge female professionals associated with the game to step up and face their challenges and find a position for themselves. They should fulfil their role as long as they've got the required credentials. They just need to keep doing what they do, love it and eventually, it will pay off, " she said.
Although she said she's satisfied with her progress in the profession to where she is, she still dreams big. Her future dream is to go international in the profession.
"The future for ladies judging by the current developments of the game is luminous. Hopefully, I see myself somewhere in the international sphere on the technical bench of an international side," she noted.
Her message to her fellow women during this year's International Women's Day is," Happy International Women's Day to all the ladies who don't give up on themselves. Be you, do you, stay true to your principles and don't forget to keep thanking God because the place you are in is another person's dream. Keep it real and to the men and women who always are there when we feel low thank you you go a long way," she said.