"I was lost, had several suicidal thoughts and attempts. I overdosed a couple of times on my medications, and one time I tried strangling myself, and none ever worked." For Leeon Nyang, rugby was everything – until multiple head injuries put on hold his big dreams.
Nyang's passion for rugby was ignited during his high school days at St Joseph Rapogi. He knew then that he wanted to make something of himself in the sport and to use it as a way to transform his life and that of his mother.
His rugby journey has been plagued with life-threatening injuries, depression, anxiety, and setbacks. However, his unwavering determination to play for the National team drives him forward, showcasing his resilience, perseverance, and the power of self-belief to overcome adversity.
Leeon Nyang's first concussions
Speaking to the Scrummage Africa, the former Egerton Wasps player opened up about suffering the first concussion in 2016 after a tip tackle. He had little knowledge about concussions at the time and woke up unable to move his legs and body. He was given painkillers and the concussion was less monitored but suffered constant headaches.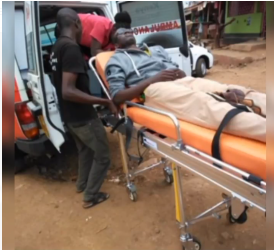 "In 2016, during a high school 15s competition against Kanga High, I suffered my first ever concussion after a nasty tip tackle. I woke up unable to move my head or legs and was given painkillers and, but it was never taken seriously. I missed most of my studies that term due to constant headaches and dizziness," he revealed.
In 2017, Nyang returned to rugby and helped his team make a record appearance in the Nyanza Regional games where they got knocked out by St. Mary's Yala. During the sevens season, he suffered yet another tip tackle that resulted in a concussion. He woke up six hours later in a sanatorium with little memory of what had happened.
His teachers suggested a computerized tomography (CT) scan, which showed no damage. However, Nyang's mother wasn't satisfied and took him for a Magnetic Resonance Imaging (MRI) scan, which also showed no damage. Despite this, Nyang returned to action and helped his team reach a record National Secondary School 7s quarterfinal.
After the school games, Nyang would shift his focus to revising for his KCSE exams and coaching the incoming team. However, during an incoming vs outgoing match in October, he suffered a tip tackle from a young player which caused him to land awkwardly and lose consciousness for almost six hours. Upon waking up, Nyang found that he had numb feet and worsening headaches. He was concerned about missing his exams as they were only two weeks away. In his own words, Nyang said, "…all I remember was waking up in the Sanatorium …two weeks to my exam. My feet were numb and weak …my headaches got worse and now the thought of missing out on my exams made it even worse."
Editor's pick:
After several test, Nyang was released from hospital this time around on crutches and he was more than determined to complete his high school education and graduate to club level. His aspirations were given a boost as coach Mitch Ocholla had expressed interest in signing him and was confident of securing a university scholarship. However, Nyang's fears were confirmed when he collapsed while revising with his friends just a day before the start of his KCSE exams on November 3rd, 2017.
"I dropped in class while revising with my mates on the eve of our exams on November 3rd, 2017. Although I had a slight headache, I refused to rest as I had a Math's paper the following Monday. I woke up on exam day around midday with no memory of what happened, and all I could ask was if I had done my paper."
"KNEC officials and the Deputy Academics advised me not to risk my health, saying 'Young man, your condition is not worth risking however important the paper is. You can always come back and do the exams, but your health, you only have one shot at.'" That is how his he missed his KCSE exams.
Doctor's verdict on Leeon Nyang issue
Nyang was taken to Avenue hospital and it was established he had suffered multiple soft tissue damages that damaged the functional part of his brain. He recalled, "My limbs were affected for a while. My memory became messy. Worse, I dipped into a dark place imagining I can't play rugby anymore. The sport that was to make life more bearable "
This led him to have suicidal thoughts and make attempts on his life, and despite support from his mother and school, he struggled to cope.
"I was lost, had several suicidal thoughts and attempts. I overdosed a couple of times on my medications, and one time I tried strangling myself, and none ever worked. Mum always swooped in at the right time."
A visit by Benjamin Ayimba, organized by his son Brian Ayimba, changed Nyang's outlook. Ayimba gave him words of hope, and Nyang vowed to fight on.
"The visit by Paps (how they referred to Ayimba) changed me. He told me 'We are our healing because God puts something in every man that no machine or genius can tell.' From this point, I kept telling myself despite losing my dream, I wanted to live for a purpose."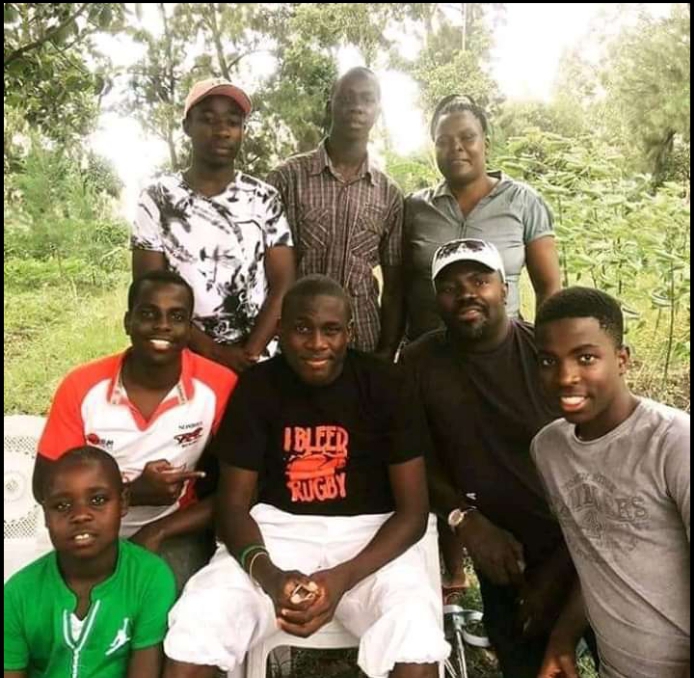 His attitude changed, and he became more prayerful and he was able to leave his crutches in weeks when doctors said he would not be able to walk for a few months.
However, things did not pan out as expected when he returned to school. Nyang faced constant seizures and headaches. He struggled with the pressure from school, including classes and remedials, and not being able to mingle freely with his friends.
"This was when the doctors realized that due to constant first falls, it's like my brain shifted a bit to the right, and that's why it's my left side of the body that was always a mess."
Facing violent seizures
His condition caused him to have violent seizures and fits triggered by loud noise or strong emotions.
"I'd violently mess up anything and anyone in front or around me, desks, window panes. It was the darkest times of my life."
He faced stigma from his fellow students and revealed, "I saw guys scared of me. I saw some guys wish me death. In fact, mum used to be told I'm bewitched."
Despite the challenges, Nyang had a supportive crew of friends who stayed by him.
"I had friends who stood by me like the fight wasn't mine alone…I remember the days they'd come to Avenue and relieve mum to go back home and attend to my younger siblings, and they'd feed me, wash me, and stay by me all day."
Nyang underwent therapy and was able to sit for his KCSE exams with the KNEC being made aware of his situation which saw them handled him properly.
Due to concerns that surgery could potentially worsen the problem, doctors determined that it was not the best course of action for his condition. Despite seeking a second opinion from multiple hospitals, his mother was unable to find a solution for his condition.
"Doctors couldn't operate on my brain as it was structurally fine but causing functional issues. They warned that surgery could cause more complications than it solves. As a result, I've been on medication for five years with prescriptions changing regularly."
"After visiting several hospitals it got to a point mum said let's leave this To God and just live life. Resources were being spent …with no results"
Leeon Nyang's rugby return
After joining Egerton University in 2019, the idea of returning to rugby sparked his interest. Despite his doctor's disapproval, his mother allowed him to play non-contact games. He eventually joined the Egerton Wasps rugby team.
"I asked my doctor if I could play. No contact, just friendly touch games. The doctor was shocked. He told me I should wait for mid-semester to have a checkup before he could give the verdict. Meanwhile, I asked my mum the same. She said she'd support me as long as I was safe from harm. And that's how I joined Egerton Wasps."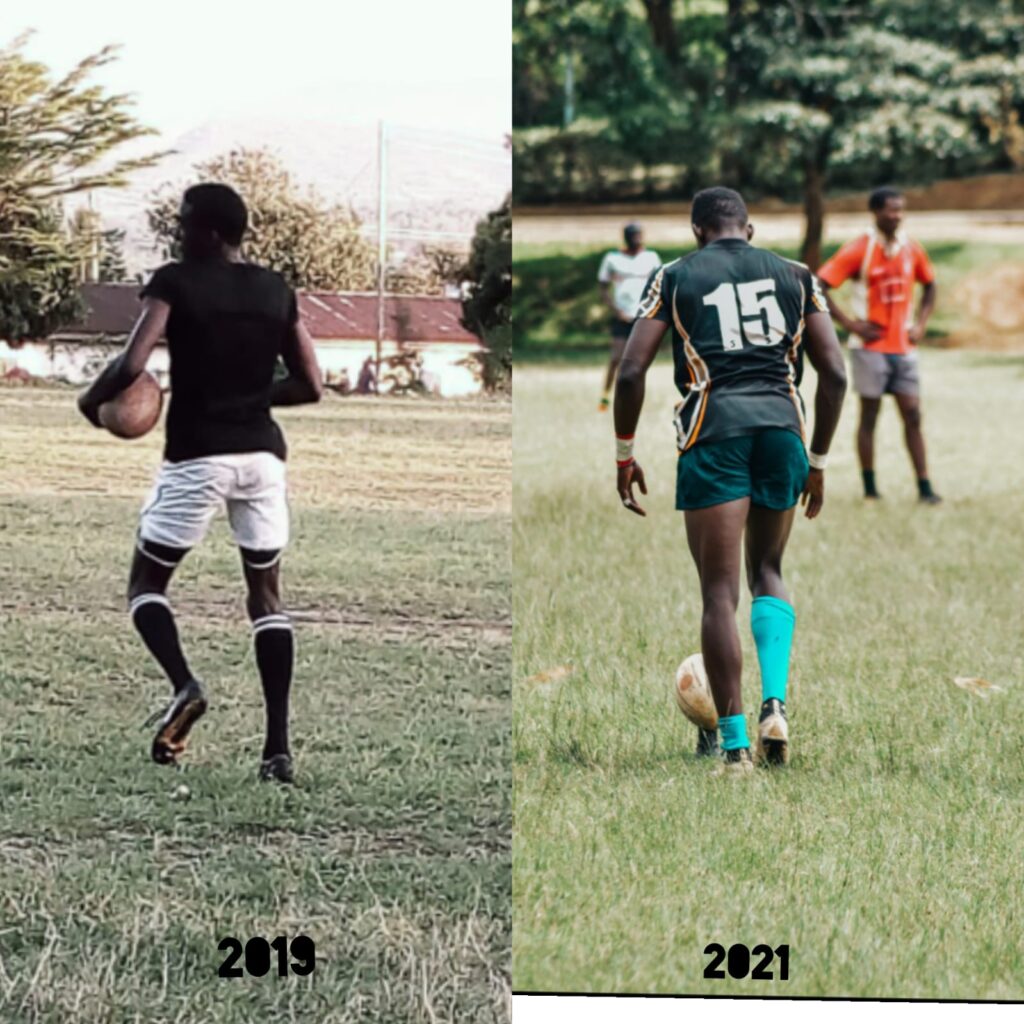 At the time he started off again, he was too tiny and the fear to get into regular contact saw him change his position to full back and had to work more on speed, agility. He was hungry to play again and but faces some hurdles.
"Not everyone knew my story and explaining myself is never my portion. Criticism, even if positive, triggered anxiety for me. I struggled to open up about my story and would have nervous breakdowns on the field in the middle of the game if things went wrong."
He made his debut for Egerton Wasps against MMUST and was named Man of the Match in a 17-14 loss. When reports reached friends and family that he was back in rugby, he received a lot of criticism.
" Friends and family were mad at me saying I didn't care about my health, that I was out to kill my Mum with stress. Despite being criticized, I use call mum before and after every game for words of encouragement. She always told me 'you are special son, you did great, we will get there next time' which motivated me to keep playing."
Despite picking two nasty falls while playing for Egerton, he returned to help the team reach the KRU Championship quarter-final, but their Kenya Cup dream ended with a loss to Mean Machine.
His performance however caught the attention of Nakuru RFC's technical bench, and he joined the team with the dream being to get to that level of Collins Injera.
More concussions would follow following an ankle tap against Kabras which saw him hospitalized in Nakuru. He later had four mild concussions that season which included one against Impala, another one in training and one in the National 7s Campaign during the Dala 7s against Impala.
"The concussion that put me down was at Dala 7s against Impala. The doctor told me one more fall and its either I would become mad, crippled or dead. This words broke me. I remember the club even had to send Oscar Ouma to try talk to me to take a break. He told me there is more to rugby than just playing."
He was devastated to be locked out of the sport he loved and couldn't even bring himself to watch the training sessions, as it only made him feel worse.
"Its was another dark hole moment for me. Going to the field was pointless cause watching my mates train and I couldn't only gave me bad ideas. I locked myself up alone for a while."
After a friend suggested the idea of becoming a coach at Egerton Wasps, he initially hesitated, but eventually saw it as a better form of therapy for himself.
"Patricia (a friend) came up to me asked to try coaching, At first it was a funny idea . The idea of coaching had never crossed my mind."
"Then I sat and thought about it. Looked at it from a bigger point of view of how rugby is a go to therapy session for my guys fighting one or two that they can't share. So one day I showed up to the field and after there usual training session called them in and shared with them my plan."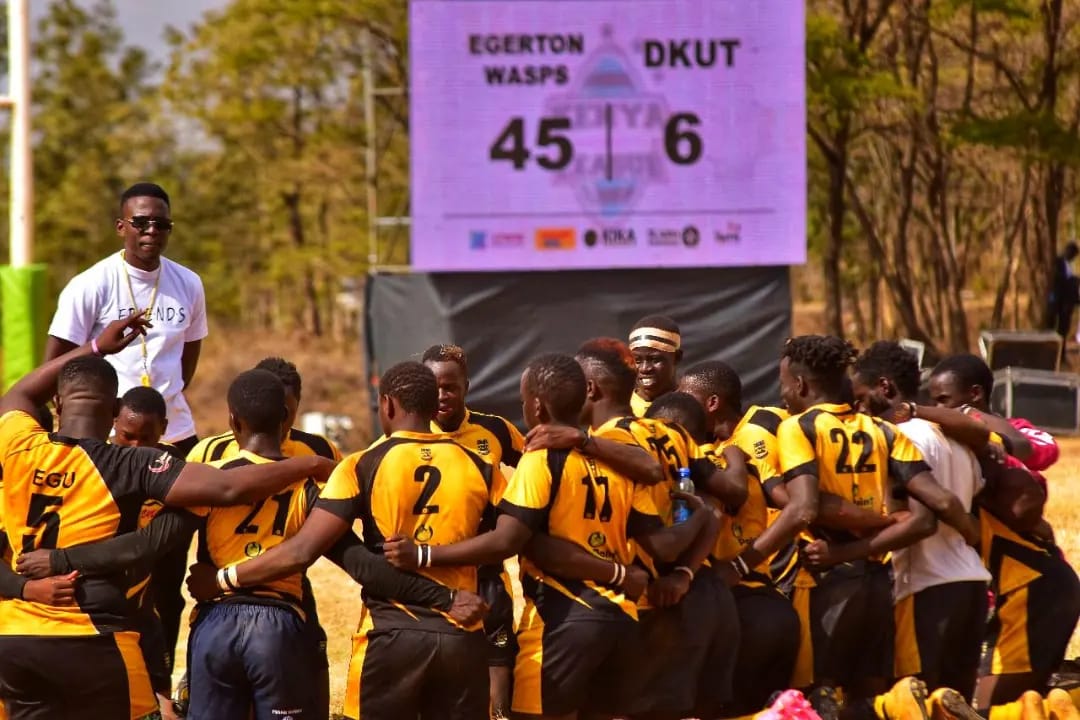 While his former team may have focused solely on winning, his goal as a coach was to instill in his players the right mentality to succeed both on and off the pitch.
"Their goal was victory ..mine was getting their minds in shape to win not just games but battles that come before the game. #mindfitigamefiti was the slogan."
As a coach, he didn't let his lack of formal training hold him back. Instead, he turned to the internet and consulted with other coaches in Nakuru to improve his skills. Through his hard work and determination, he was able to lead his team to the Varsity league quarterfinals and hopes to guide them back to the second tier after a successful regular season.
In addition to coaching, he strives to be a positive role model for his players and continues to work on his own physical fitness with the hope of one day returning to the pitch himself. He also aspires to earn coaching badges to further his development and contribute even more to the sport he loves.
"I hit the gym everyday, to keep fit and be an example to my boys and because I want to play again, someday. High risk high reward.
He concludes by saying, "I know playing is a gamble but I also know that doing what I do best in national colors would be a milestone enough."