KCB Rugby's strong start to the season continued with a 29-10 victory over Homeboyz at KCB Sports Club, their third bonus-point victory of the season.
The bankers handed Homeboyz the first loss of the season. The Deejayz had had a strong start to the season under coach Oscar Okaron's leadership.
First try
The Deejays were reduced to 14 players early in the game, and the hosts took advantage of the situation to score through Kenyan International Darwin Mukidza. Mukidza added the extras to make it 7-0 after six minutes of play.
Brian Juma scored a penalty kick for the Deejayz, becoming the first player to score against KCB this season. Okaron's side then took a 10-7 lead after Zeden Marrow scored their first try of the game, which Juma converted.
In what was a closely contested first half, the hosts had the last laugh when captain Curtis Lilako crossed over for a try that Mukidza converted for a 14-10 lead.
In the second half, Martin Owilla scored the third try for KCB before Andrew Amonde came off the bench to score the bonus-point try.
Brian Wahinya scored the game's final try after picking the ball up from the scrum and evading his markers.  The win sees KCB move to 15 points after three matches.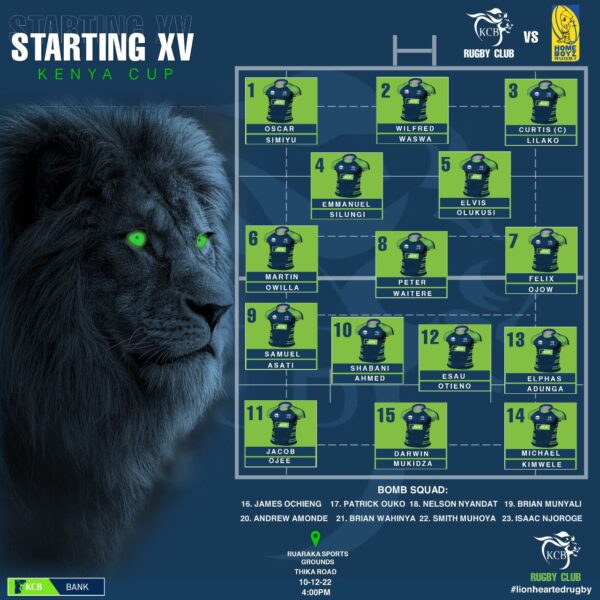 Homeboyz squad
1.Mike Munene, 2. Bruce Abinta, 3. Ezekiel Owiti, 4. Roy Wesonga (c) 5. Felix Odhiambo, 6. Stanley Isogol, 7. Philbert Mwanzo, 8. Tom Maina, 9.Mohammed Omollo, 10. Haroun Lubisia, 11.Bush Mwale, 12.Zeden Marrow, 13 Brian Mutugi, 14.Leonard Mugaisi , 15. Bryan Juma.
16. Dan Kagwa, 17. Marvin Ambunya, 18,Wayne Omondi 19. Anthony Omondi, 20. Keith Wasike , 21. Mike Nyakundi 22. Amon Wamalwa 23.Jan Remke