Impala Saracens have released a statement addressing the power outage issue that led to the postponement of the two Floodlit matches that were to be played on Saturday night.
The match between Nondies and Impala was called off at halftime due to a power outage, while the match between Kenya Harlequins and the defending champions KCB Rugby did not start.
Apology to Fans 
Impala, in a statement, first apologized to fans, players, management, and sponsors for the inconvenience.
The Club says it has begun work on the floodlights and hopes to have them operational by Monday evening to avoid the situation that occurred on Saturday.
Through the statement, they have confirmed that entry will be free for the matches that were pushed to 2 November 2022.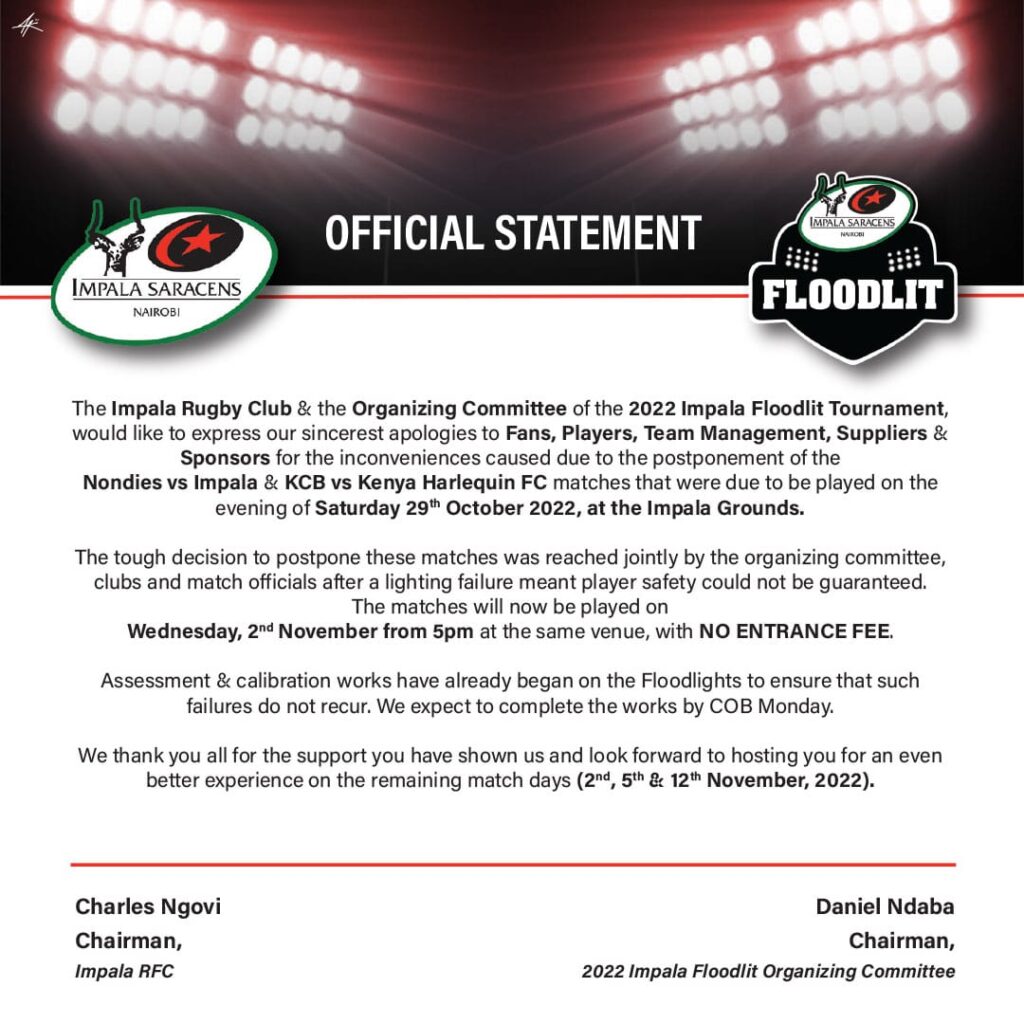 Meanwhile,Menengai Oilers have qualified for the semis of the competition scheduled for Saturday after a 26-13 win over Nakuru RFC in a Nakuru derby that kicked off at 4:00 PM.
Blak Blad got a 22-19 win over Strathmore Leos to proceed to the last four.
Impala Floodlit results  
Strathmore Catulus vs USIU- 10:20 (RFUEA Grounds)
Daystar Falcons vs Mean Machine -10:20 Impala Club
Catholic Monks vs  Blak Blad II – 12:00 (RFUEA Grounds)
Kenya Under 20  Nakuru Universities combined – 12:00 Impala Club
Veterans Exhibition Match – Impala Club – 1:40 PM
 Club category at Impala Club
Blak Blad 22-19 Strathmore Leos
Nakuru RFC 13-26 Menengai Oilers
Postponed to Wednesday
Nondies  Impala – 6:00 PM
KCB Rugby vs Kenya Harlequin- 7:20 PM