Argentina have confirmed their squad for the opening event of the World 7s Series, Hong Kong 7 set for 4-6 November 2022.
Córdoba Athletic's scrum half, Agustín Moyano, will make his debut with the national team during the tournament.   The 19-year-old is also joined by Joaquín Pellandini and Benjamín Elizalde who will also be making their World 7s Series debut.
14 Players named
Head coach Santiago Gómez Cora has confirmed the squad of 14 players for this first stage.
Los Pumas 7s won five medals (gold in Vancouver, silver in Malaga and bronzes in Dubai I, Dubai II and Seville) and finished fourth in the world ranking.
It was the second-best historical position, only behind the third place achieved in the 2004 season, it was the only one in which the selected team arrived with chances of reaching the title until the last date.
In turn, it was the first time in history that Los Pumas 7's won four consecutive medals.
The 2023 season will be made up of 11 stages and will have its first three dates in the remainder of 2022, the Hong Kong Sevens, from November 4 to 6; the Dubai Sevens, between December 2 and 3, and the Cape Town Sevens, from December 9 to 11.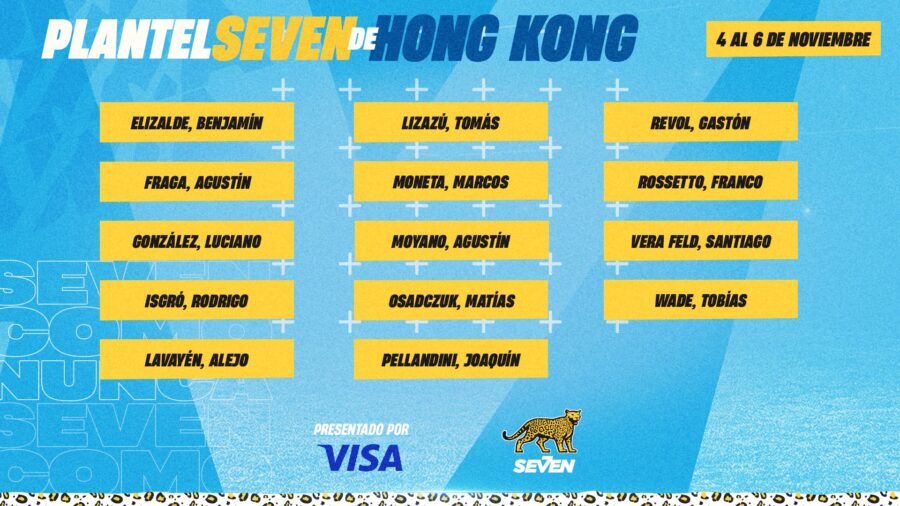 Argentina 7s squad for Hong Kong;
ISGRO , Rodrigo
VERA FELD , Santiago
ELIZALDE , Benjamin
FRAGA , Agustin
LAVAYEN , Alejo
REVOL , Gaston (captain)
OSADCZUK , Matías
WADE , Tobias
GONZALEZ , Luciano
LIZAZU , Thomas
MONETA , Mark
PELLANDINI , Joaquin
ROSSETTO , Franco
MOYANO , Agustin