Kabeberi 7s defending Champions KCB Rugby, Menengai Oilers and Nondies have qualified for the cup quarters with a game to spare at RFUEA Grounds.
Mwamba also picked the second win while Strathmore Leos and Nakuru RFC got their wins to edge closer to the quarters.
KCB impress in Kabeberi 7s
KCB whipped Catholic Monks 35-7 to head to the Quarters. KCB led early on when Elphas Adunga broke through and fed Eugene Omondi for a converted try. Monks responded in style as Eric Ogutu danced through the defence and scored a beautiful centre-post try for a 7-7 after a conversion.
KCB reclaimed the lead almost immediately as Edwin Omondi claimed the ball and sold a dummy before racing away for a centre post try for a 14-7.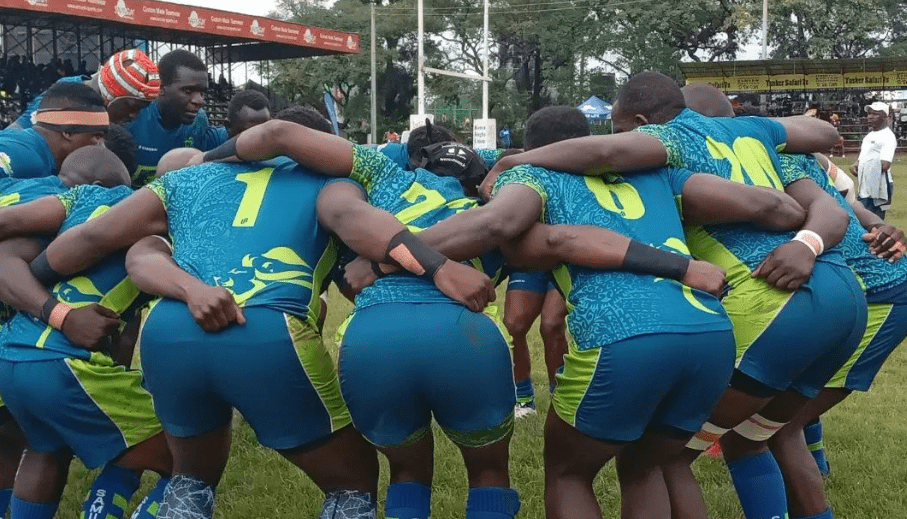 On return from the break, KCB stretched the lead through Michael Wamalwa for 21-7. Monks conceded two consecutive yellow cards reducing them to five as Austin Sikutwa, Lionel Ajelity scored for another big win.
Menengai Oilers had a good run against Moi Arsonists racing tries through Steve arunga, Elkeans Musonye and Harold Anduvate for an early lead. In the second half, they added more points for a 38-7 win. The win means KCB and Oilers are on six points have are sure of a place in the quarters ahead of their evening face-off.
Monks and Moi have two points each.
Kabras held in Kabeberi 7s
Kabras were held to a 17-17 draw by MMUST in the second match putting pressure on them ahead of the Mwamba date.
The Sugarmen had a tough task in the first half against their Lurambi neighbours MMUST. The Students landed the opening try through their captain Veron Kaburu.
Kabras fought back to lead after Jeanson Misoga's offload to Humphrey Asirikwa and it was converted for a 7-5.
Speedster Tyson Juma ensured MMUST led at the break. A tackle on Juma was not enough as he raced on to score a centre post try but the conversion was off-target for a 10-7 lead.
In the second half, Washington Ombima beat Kabras' defence and landed a try that they also failed to convert for a 17-7 lead.
It looked like game over for Kabras but Hillary Salano had a big carry on the right wing and scored the try that gave them hopes of picking a win with a minute to play.
Felix Ayange charges grabbed the third try after Duncan Abuyeka sliced through MMUST's defence and scored near the posts to tie the scores.
Dan Angwech failed to hit the target as Kabras dropped points.
Late tries by Brian Mutugi helped Mwamba beat stubborn Daystar Falcons 19-12 who led in the better part of the match.
The Students had scored through Eddie Wambugu before Mwamba pulled back through John Oduk after being fed by Daniel Taabu.
Arnold Ogonda stretched the lead before Mwamba staged a comeback.
Mwamba now lead the pool with six points after two matches while Kabras RFC are second with five points after their draw while MMUST and Daystar have three and two points respectively.
Nondies unbeaten in Kabeberi 7s
Nondies are now on a eight-match unbeaten run and are set to feature in the quarters after beating Tessen Warriors 26-10 to move top of the pool.
They have six points in their pool while Tessen have four as well as Kenya Harlequin who bounced back with a 31-5 win over Blad to keep their quarterfinal hopes.
In Pool B, Strathmore Leos bounced back as they beat Impala 33-5 while Nakuru RFC were handed a walkover over Kisumu RFC.
As it stands, Strathmore Leos have eight points since they will get a walkover against Kisumu RFC. Nakuru RFC have five points while Impala are four points ahead of their final match.
Kabeberi 7s results
Tessen Warriors 26-0 Blak Blad
Nondies 12-7 Kenya Harlequin
Kisumu RFC 0-28 Impala RFC
Strathmore Leos 5-5 Nakuru RFC
Kabras RFC 22-7 Daystar Falcons
Mwamba RFC 17-7 MMUST
KCB Rugby 50-0 Moì Arsonists
Menengai 21‐5 Catholic Mònks
Nondies 26-10 Tessen Warriors
Kenya Harlequin 31-5 Blad
Nakuru 28-0 Kisumu RFC
Strathmore 33-5 Impala
Kabras 17-17 MMUST
Mwamba 19-12 Daystar Falcons
KCB Rugby 35-7 Monks
Menengai Oilers 38-7 Moi
Nakuru vs Impala
MMUST vs Daystar Falcons
Catholic Monks vs Moi Arsonists
Kenya Harlequin vs Tessen Warriors
Nondies vs Blak Blad
Kabras RFC vs Mwamba
KCB vs Menengai Oilers