2018 Champions SWD Eagles lead the 2023 Currie Cup First Division/Mzanzi Challenge standings with a total of 30 points.
The Eagles have been unstoppable thus far, having won all six of their matches and gained maximum points. They currently enjoy an 11-point lead over their nearest competitors, the 2022 finalists Eastern Province, who have won four of their five matches and sit in second place with 19 points.
Currie Cup/Mzanzi top six
The Valke and Rhinos are level on 16 points, with the Valke holding a superior point differential. Both teams have played four matches and have secured three wins each.
The Boland Kavaliers hold the fifth position with 15 points, while the 2021 champions, the Leopards, are in sixth place with 11 points after winning only two of their five matches.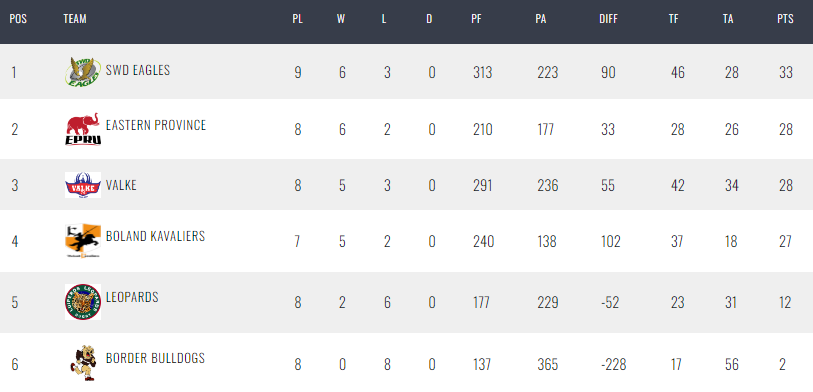 The Windhoek Draught Welwitschias from Namibia are in seventh place with six points, having won just one of their five matches. The Border Bulldogs, who will be Kenya Simbas' next opponents, are in eighth place with five points, having won one of their four matches.
The Goshawks from Zimbabwe are at the bottom of the table, having lost all five of their opening matches and gaining only two points.
Kenya Simbas bottom
Unfortunately, the Kenya Simbas find themselves at the very bottom of the log with no points. The team missed the opening two matches and have lost the other two.
The team will need to put in a strong performance in their upcoming matches to climb up the rankings.