Menengai Oilers Head Coach Gibson Weru  has named his charges to play Mwamba Rugby Club at Nakuru ASK Showground on Saturday. 
The squad sees a lot of tweaks be it in terms of change of personnel or just positional shifts. The changes from last weekend's loss to Blakblad see Francis Atiti and Vincent Mwikhali reinstated to their respective front-row positions while Kenya Simbas international Clinton Odhiambo comes into the starting lineup to captain the side in the absence of Shitundo who is on the bench.
The other changes see Kenya Simbas back row Brian Ndirangu replaced by Kenya U20 star Tyson Maina. Austin Sikutwa is back to his usual open-side wing duties and joins regulars Davis Nyaundi and explosive winger Beldad Ogeta.
The Coach exudes confidence in his selection. "A few adjustments on how we want to play with Mwamba being a different outfit to Blakblad but we have selected a side that we feel can give us a victory. We are looking forward to playing Mwamba on Saturday, a very dynamic side but we are playing at home and we hope that will give us a bit of an advantage."
"We have had a very positive week despite the loss last weekend. From my end, there were so many things we did well and we just let ourselves down at crucial moments but very very impressive performance. The result doesn't really tell the story," says coach Gibu.
"It's been one of those tough weeks when you have to put that aside and try & motivate the boys and make sure that they are focused and ready for Saturday. I am very very encouraged by what I've seen this week, the boys have trained hard & the spirits are high," adds the coach.
"Our aim this weekend is to control the game and make sure that we control the scoreboard as well," concludes coach Gibu.
The game will kick off at exactly 4 PM at the Nakuru ASK Showground aka The Refinery. Entrance is Kes 100.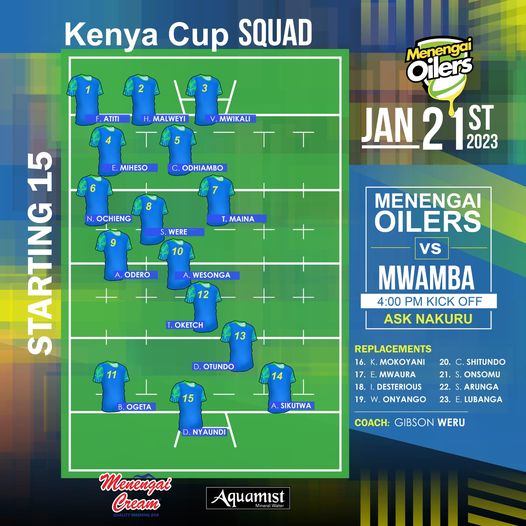 Story courtesy/Oilers Media