South Africa lead the World 7s Series standings after two rounds of the 2023 competition.
The former Champions won the Dubai 7s on Saturday, extending their record to four titles in a row in the desert and bagged 22 points. They had collected 10 points in Hong Kong and this puts them on a total of 32 points.
Defending Champions Australia also have 32 points after picking 10  points this weekend but they drop to second on point differential.
France are third with 30 points after 17 points in Hong Kong and  13 in Dubai. Dubai 7s finalists Ireland have 29 points in the competition.
Fiji and USA are tied on 27 points each while New Zealand, Argentina and Samoa are on  25 points each.  Great Britain and Uruguay have 10 points.
Canada, on nine points, Spain on eight points and Kenya 7s on six points close the top 14.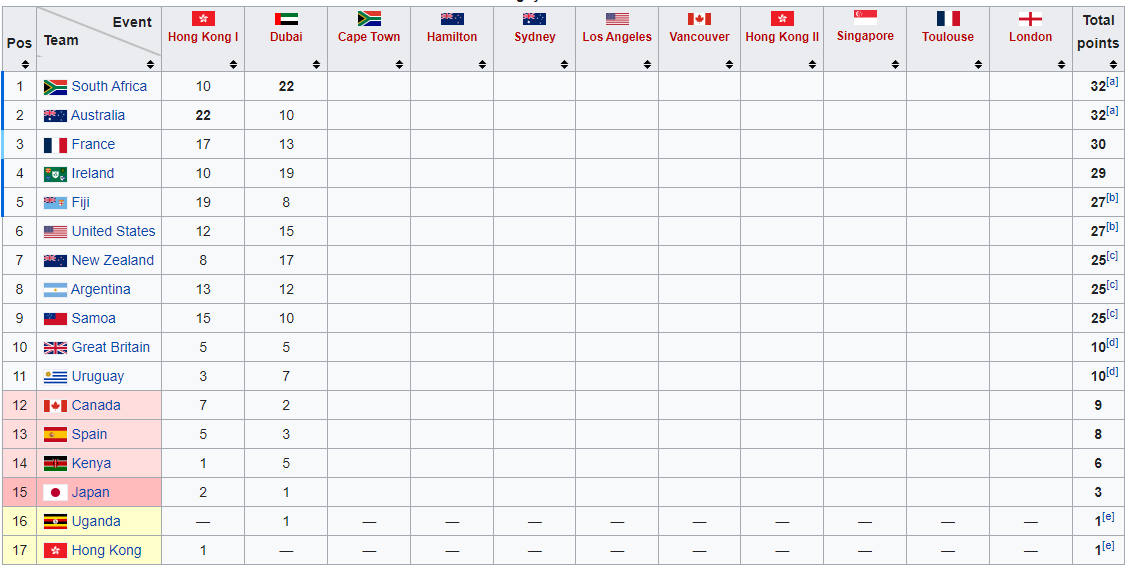 About the  2023 World 7s Series
The World Rugby Sevens Series 2023 promises to be the most competitive and compelling to date with more at stake than ever before as the top four ranked men's and women's teams will earn Olympic qualification for Paris 2024, while in the men's Series the number of teams for the 2024 Series will reduce from 16 to 12 to equal the number of women's teams and align with the Olympic competition structure, meaning fans can expect an intense battle to avoid relegation in the 2023 Series with every match and every point counting towards their final Series ranking.
How will relegation be decided from the men's Series 2023?
The 15th-ranked core team based on accumulated Series points following the tenth round in Toulouse will be relegated. The teams ranked 12th, 13th and 14th at the end of Toulouse will enter a four-team relegation play-off together with the Challenger Series 2023 winners at the eleventh and final round of the Series in London.
The relegation play-off will be a round-robin format with the top two teams then playing a final. The winner will become the 12th core team in the 2024 Series, while the other three teams will enter their respective Regional Sevens Championships in order to qualify for the 2024 World Rugby Sevens Challenger Series. The Challenger Series will continue to provide a pathway for teams to qualify for the World Rugby Sevens Series.