After a five-year hiatus, the Chebarbar 7s will be making a return this year, with the main event being slated for 30th July at the Eldoret Sports Club.
Eight teams will participate in the event, and they will be announced during the launching of the tournament on 1st July.
Speaking to The Scrummage, tournament founder and director Aaltonen Jumba praised the efforts of Kenya Rugby Union, the tournament's committee and sponsors, for their efforts in making the return of the event successful.
"This return of this tournament is very important because first it preaches peace as is our theme "role of youths in peaceful election", but most importantly it is a good platform to keep the youths engaged and enable them to interact through showcasing their talent,"
"We are only working with eight teams since we are just making a return after a long break, and also it was the director of tournament advice. Since we are playing 7s and it's only a day's tournament, he advised that it's not good to have more than eight teams as teams will be forced to play more than four games which is not advisable. In the subsequent tournaments, we will look to increase the number of teams," he added.
The tournament was last played in 2016, and Jumba was quick to explain the reason for the long break.
"From the first edition as the founders of Chebarbar 7s, we were always keen on building a brand that would stand the test of time, and build the game. However, after the second edition, we realised that some of the committee members were not of the same idea hence wrangles over the ownership of the tournament emerged. We had to disband the committee hence the long break. We have however sorted the ownership issue and now we are good to go," he said.
The winner of the tournament is set to pocket Sh. 140,000, with runners up and second runners up going home with Sh. 70,000 and Sh. 35,000 respectively.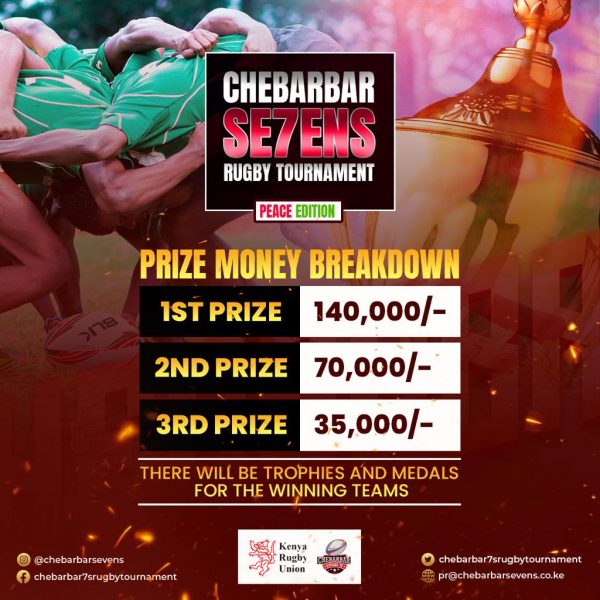 Regular tickets go for Sh. 500 while VIP tickets go for Sh. 1000.