Kenya Simbas ended the Currie Cup campaign at position eight after three wins in nine matches played in the competition.
The Simbas finished the season with a 41-24 win over the Eastern Province Elephants at the RFUEA Grounds on Saturday. In a previous match at the same venue, they defeated the outgoing champions Leopards 51-35.
The Simbas failed to roar against Falcons (51-44), Zimbabwe Goshawks (22-21), Griffons (66-33), Boland Cavaliers (43-33), and South Western District (24-7).
They end the campaign with 18 points in nine matches.
Zimbabwe  Goshawks who lost 26-16 to Falcons finished the season at position nine with 12 points while Border Bulldogs have no points.
Griffons ended the campaign on top of the log with 44 points in the 10 team competition. They are set to face the Black Lion in the semis.  Eastern Province finished second and have a date against SWD Eagles.
The Simbas used the matches to prepare for the Rugby Africa Cup 2022, which will also serve as the final round of the Rugby World Cup 2023 qualifying for African countries, will be held in France from July 1 to 10, 2022.
The competition will be hosted at Aix-en-Stade Provence's Maurice-David and Marseille's Stade Pierre-Delort, which hosted the RWC 2019 Final Qualification Tournament.
The Rugby Africa Cup pool stage was contested in July 2021, following the Rugby Africa Cup Repechage 2021, and determined the eight teams that will compete in the quarter-finals in France.
Namibia, who are bidding to reach a seventh successive Rugby World Cup, Senegal, Uganda and Zimbabwe qualified for the quarter-finals as pool winners. They were joined in the last eight by pool runners-up Burkina Faso, Algeria, Kenya Simbas and Ivory Coast.
Burkina Faso, ranked 91st in the World Rugby Men's Rankings will face Namibia on Friday 1 July 2022  in the first quarterfinal match set for Stade Pierre-Delort in Marseille.
Senegal will face Algeria in the second quarterfinal at the same venue on 1 July.
Kenya Simbas will take on the Uganda Cranes on Saturday 2 July at Stade Maurice-David in Aix-en-Provence. Zimbabwe Sables will also face Ivory Coast on 2 July at the same venue. 
The victor of the eight-team knockout competition will represent Africa in the RWC 2023 in France 14 months later. New Zealand, hosts France, Italy, and Uruguay are all in Pool A for the Africa 1 qualifier.
Whoever finishes as runners-up following the much-anticipated Rugby Africa Cup 2022 final on 10 July will still have a chance of qualifying for RWC 2023 through the Final Qualification Tournament.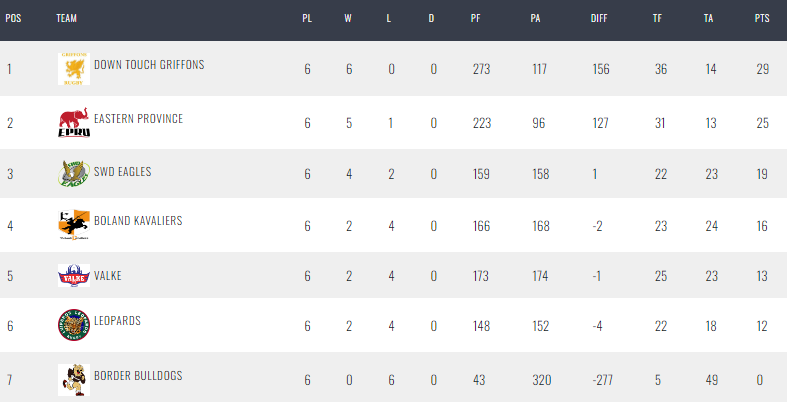 Currie Cup standings for SA teams only  
18 June 2022
Currie Cup first Division semis
Griffons v Black Lion- TBC
Eastern Province Elephants v SWD Eagles -TBC